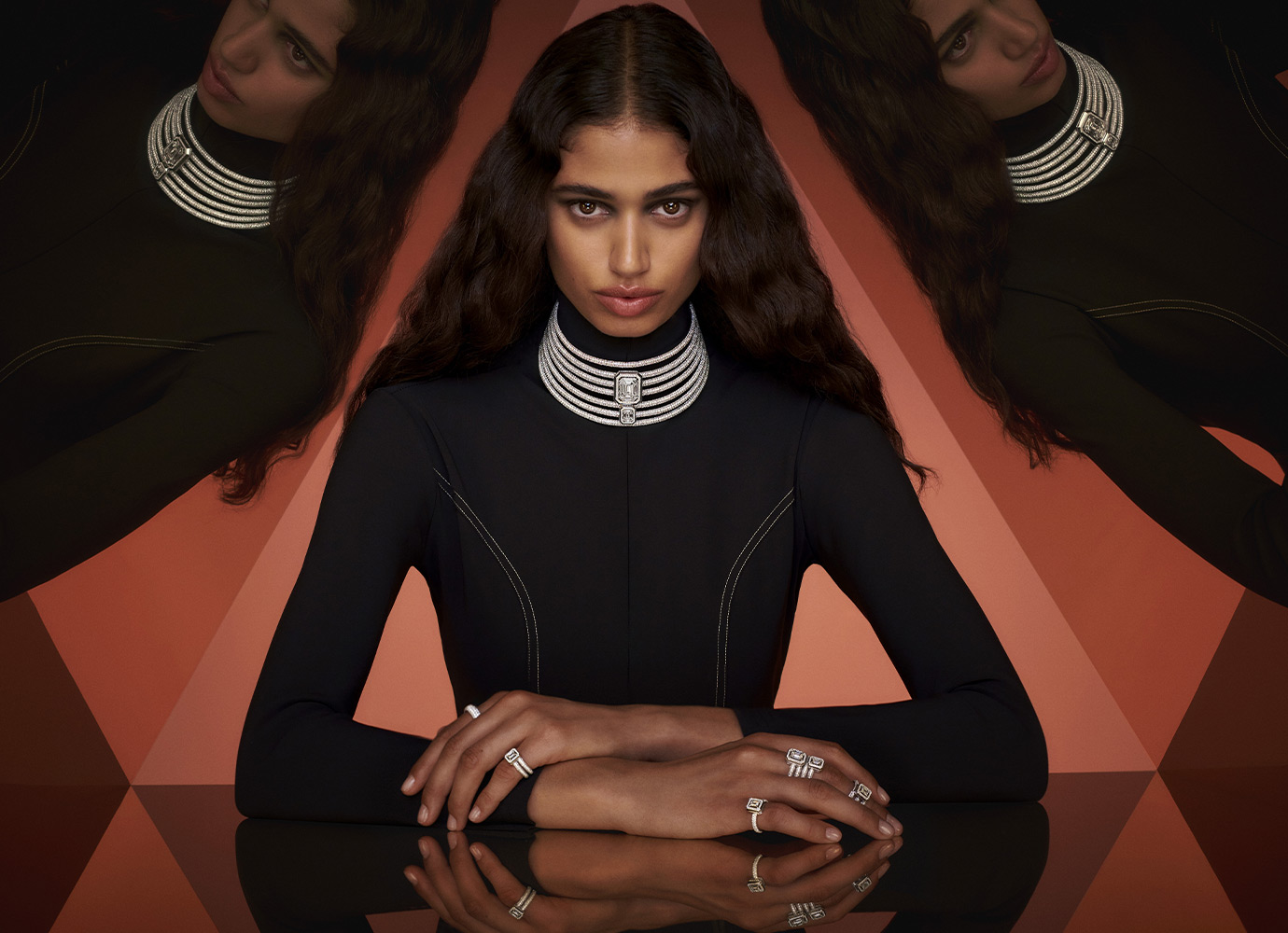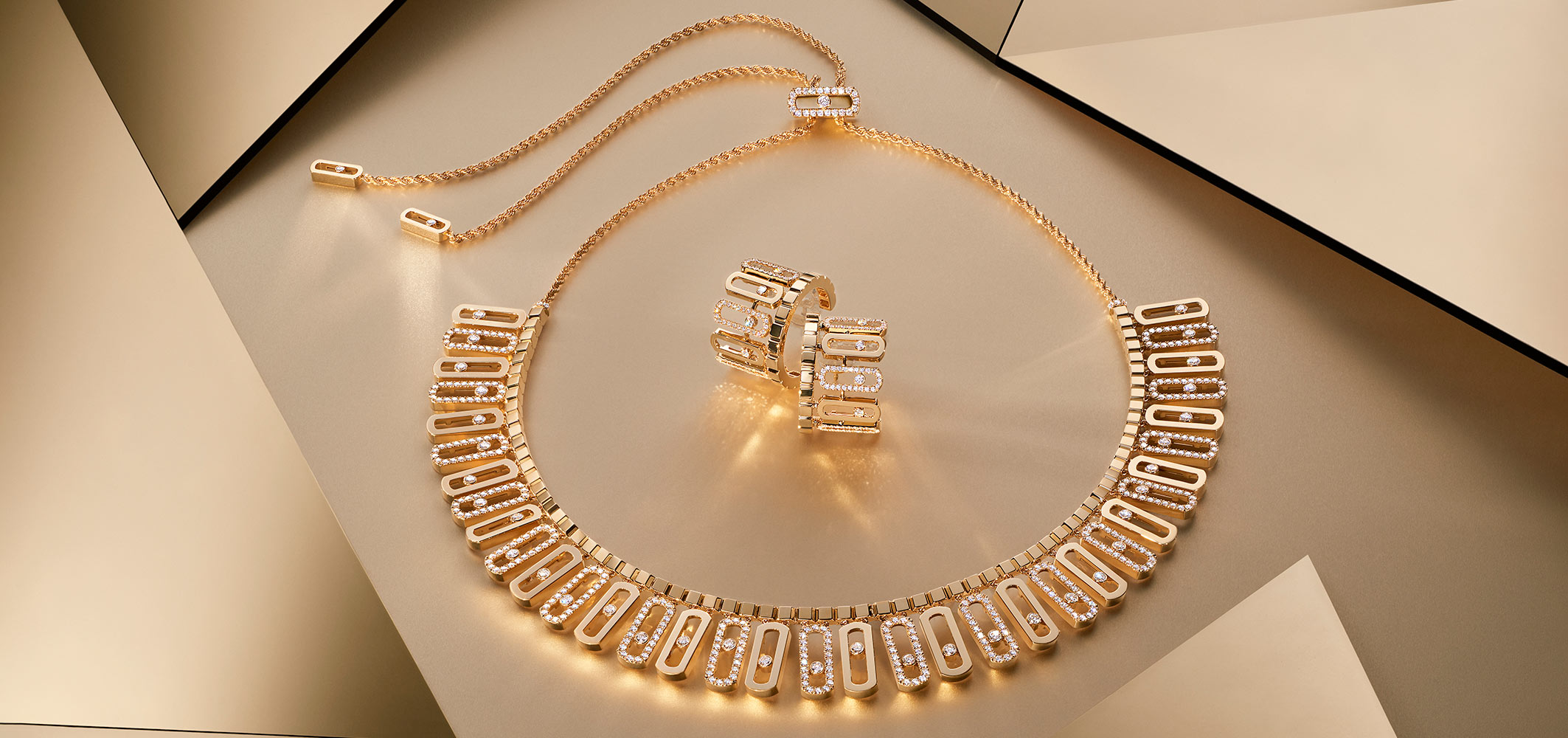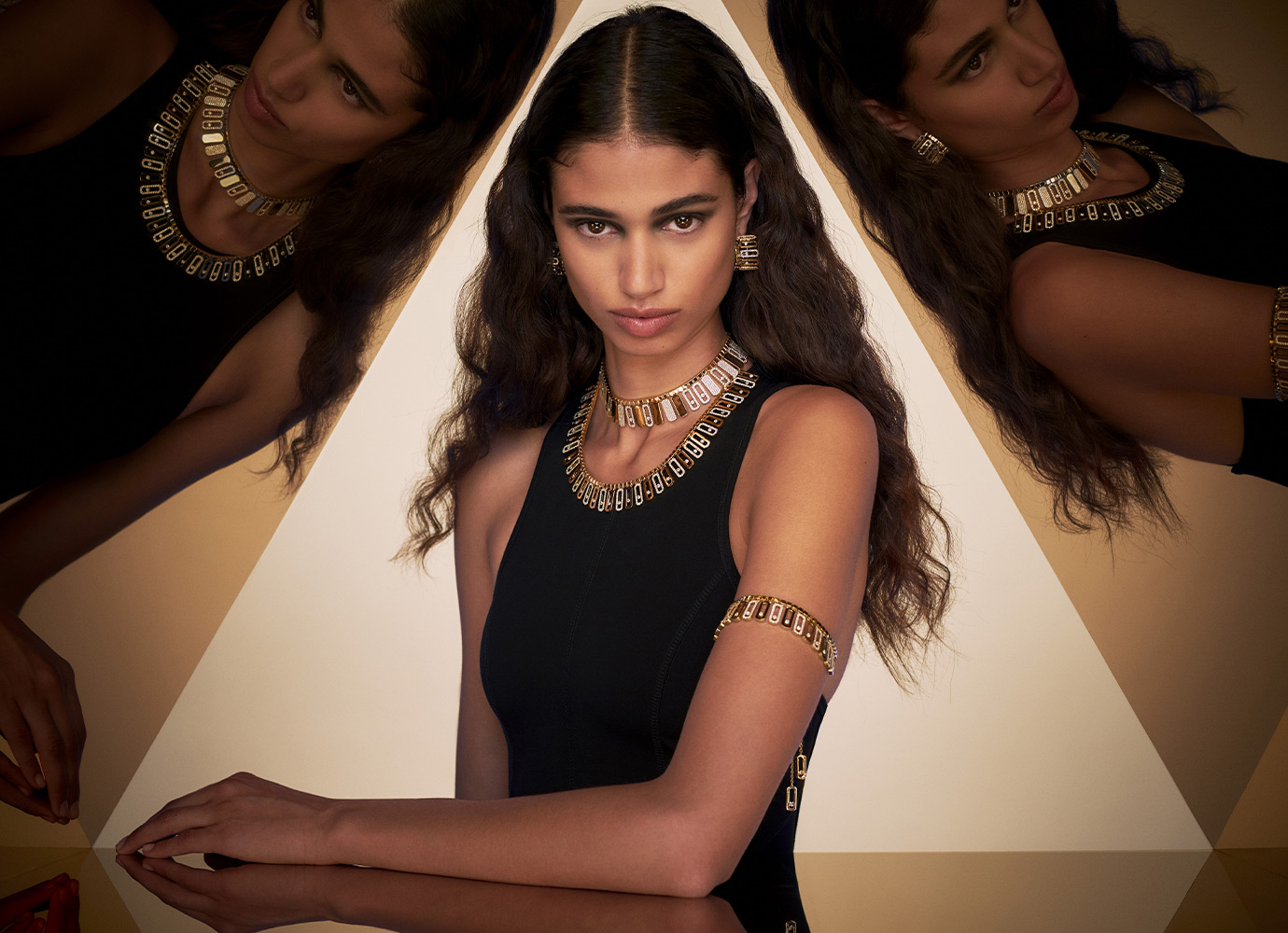 An initiatory journey into the heart of ancient Egypt
This year, Valérie Messika explores the fascinating and mysterious lure of ancient Egypt. She unveils a solar and powerful High Jewelry collection: Beyond the Light, an incandescent shower of gold and diamonds - a promise of eternal radiance. The Parisian Maison dreams up a unique and mystical journey. A magical odyssey where passion, audacity and excellence compose an entrancing and majestic collection of unparalleled artistry. The Artistic Director perfectly blends her inspirations and know-how. Through a purity of form and graphic lines, an imperial look and exceptional stones, Valérie Messika conducts a retro-futuristic symphony subtly tinged with Egypt and its hypnotic mythology. Unique and innovative sets where diamonds are transformed from piece-to-piece result in a vibrant and mystic collection of jewels.
AKH-BA-KA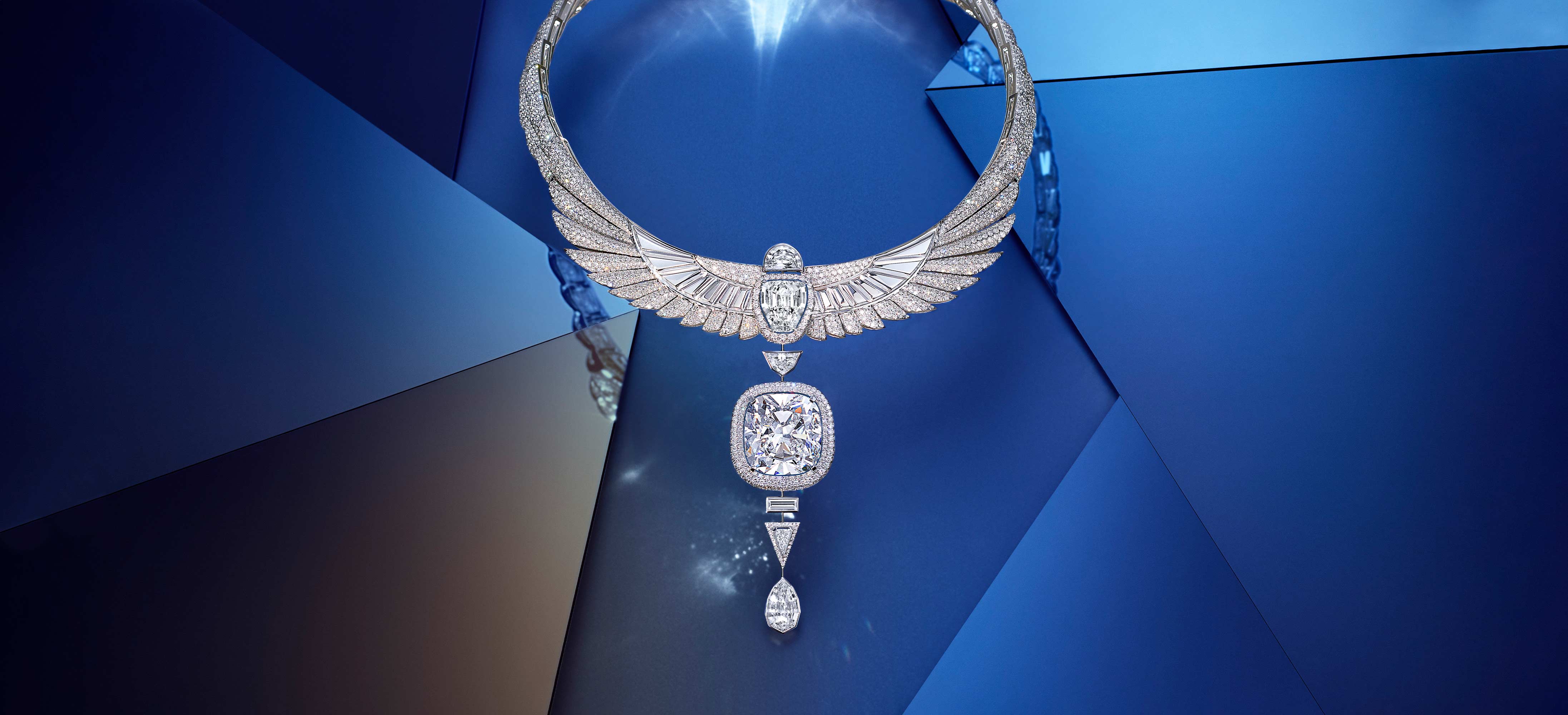 AKH-BA-KA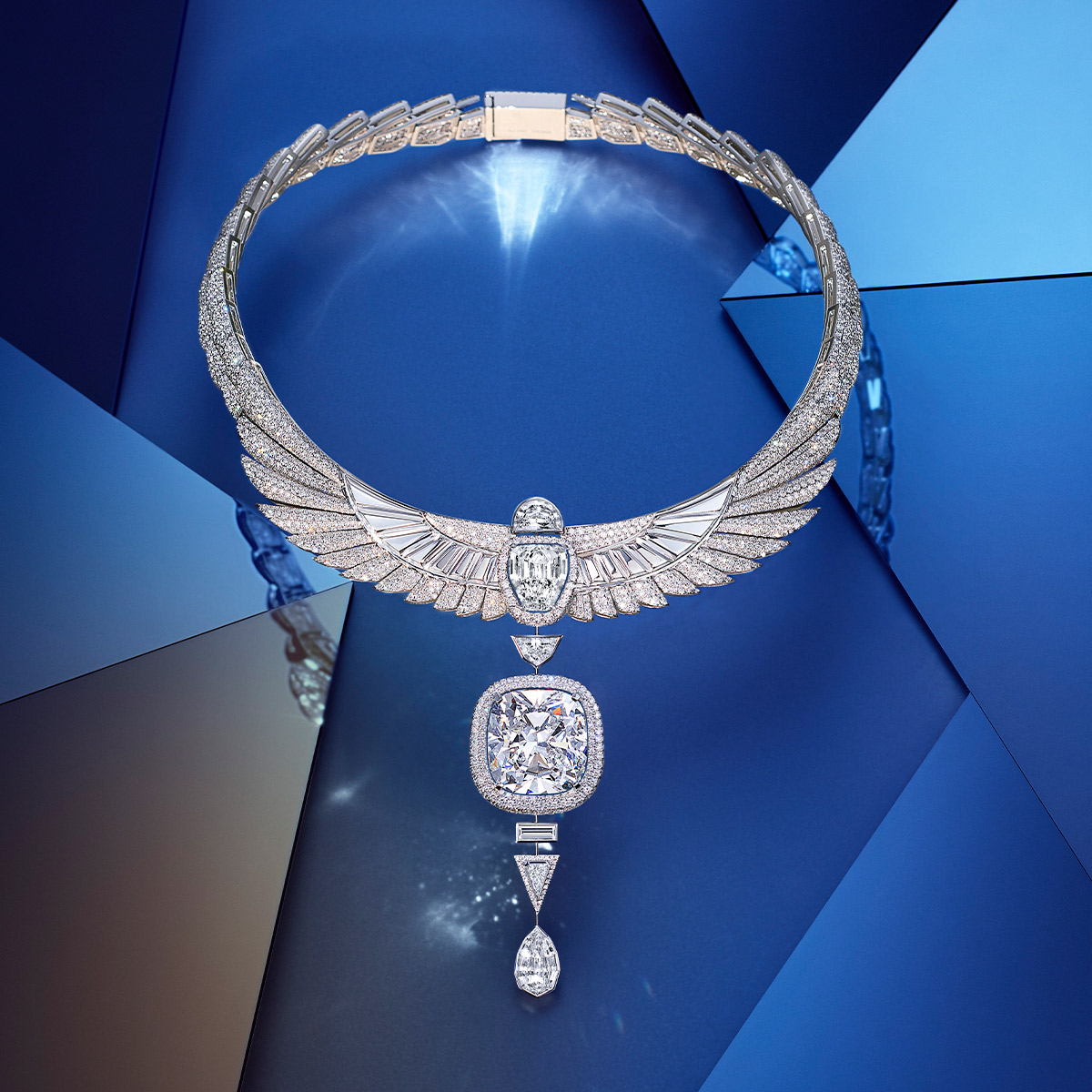 AKH-BA-KA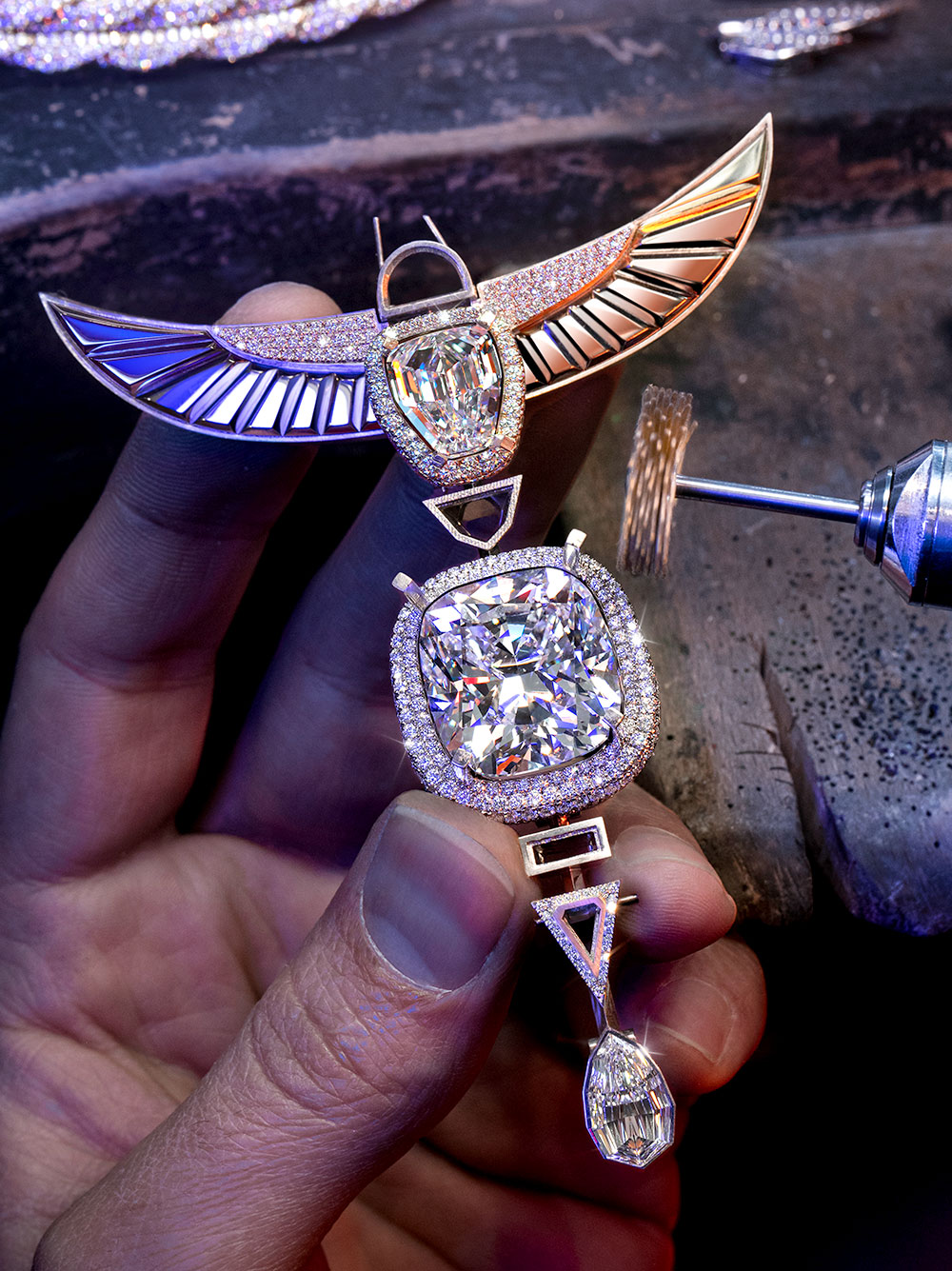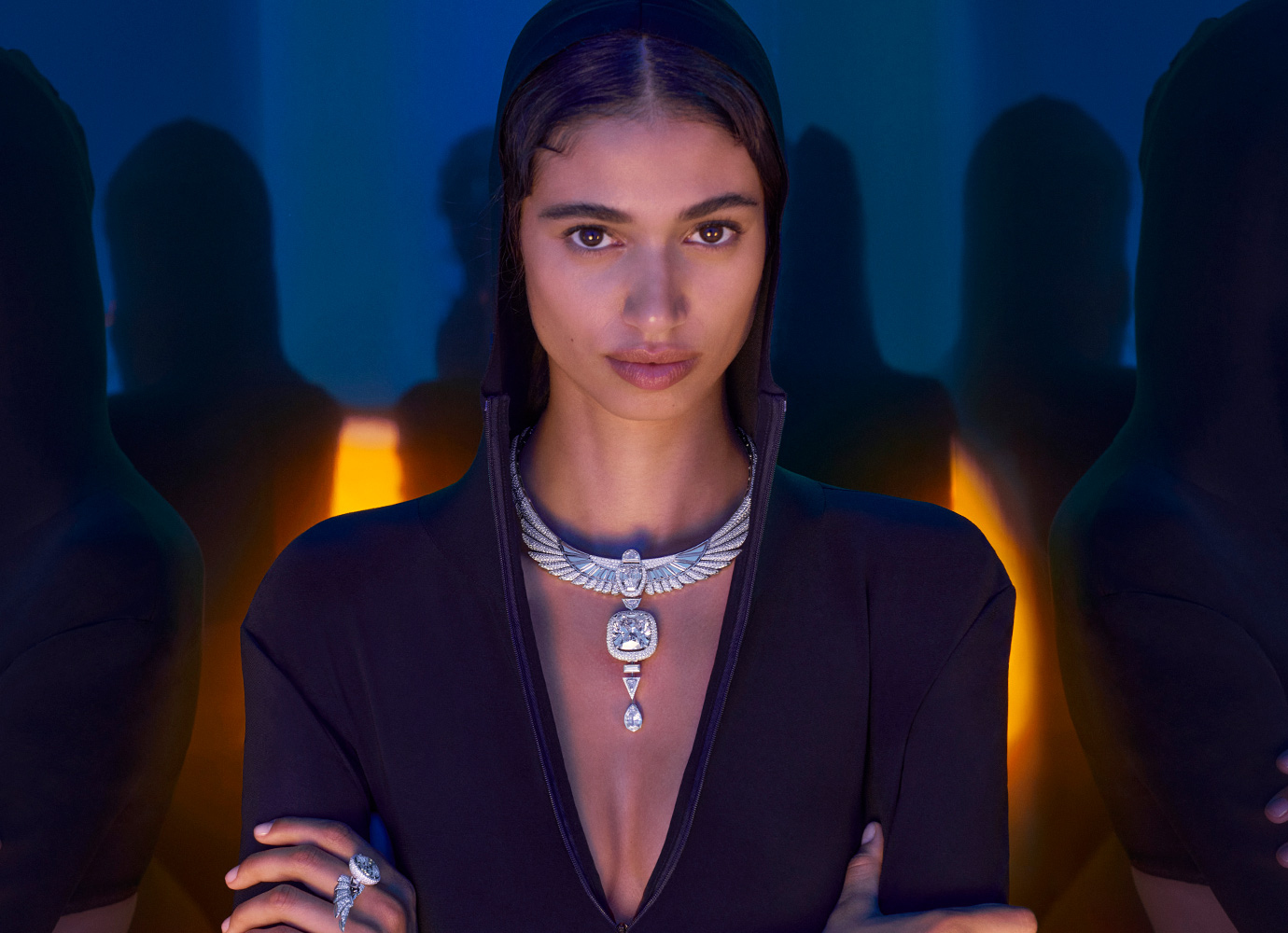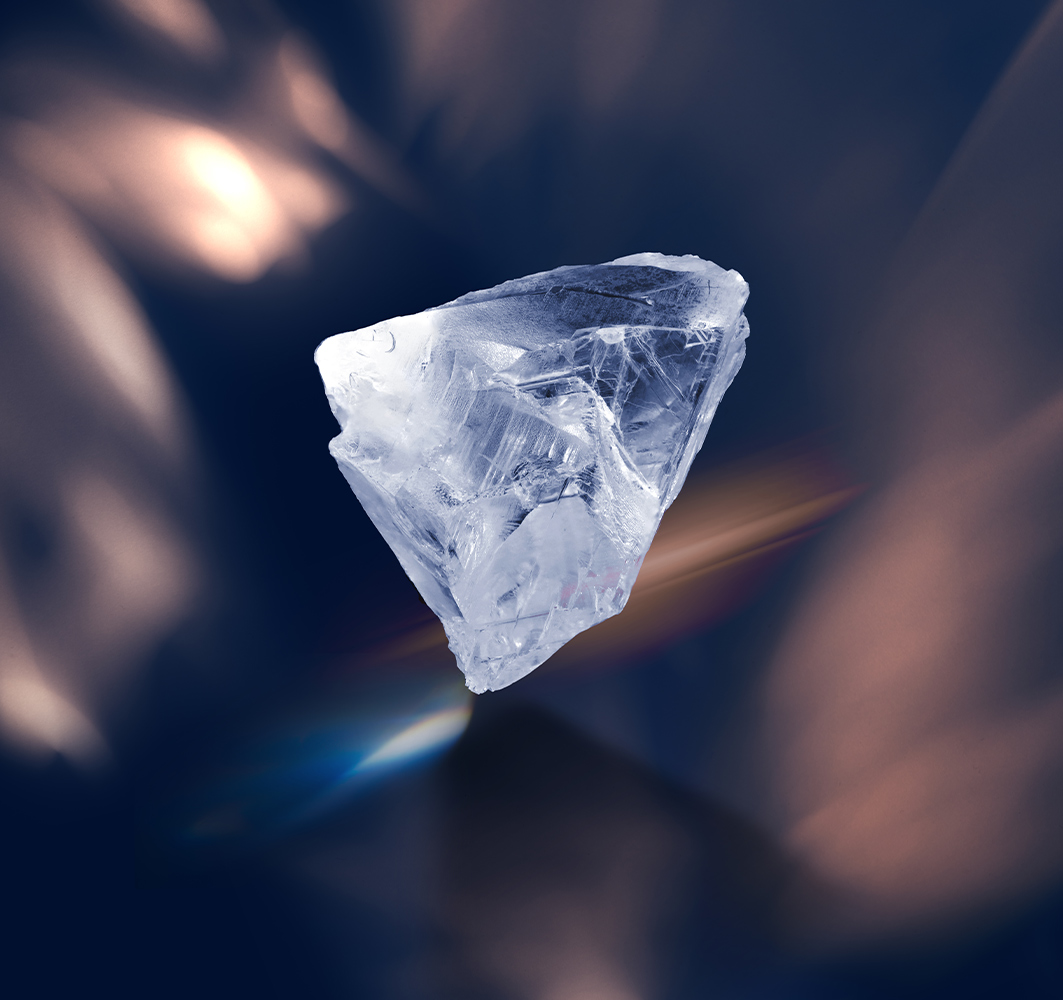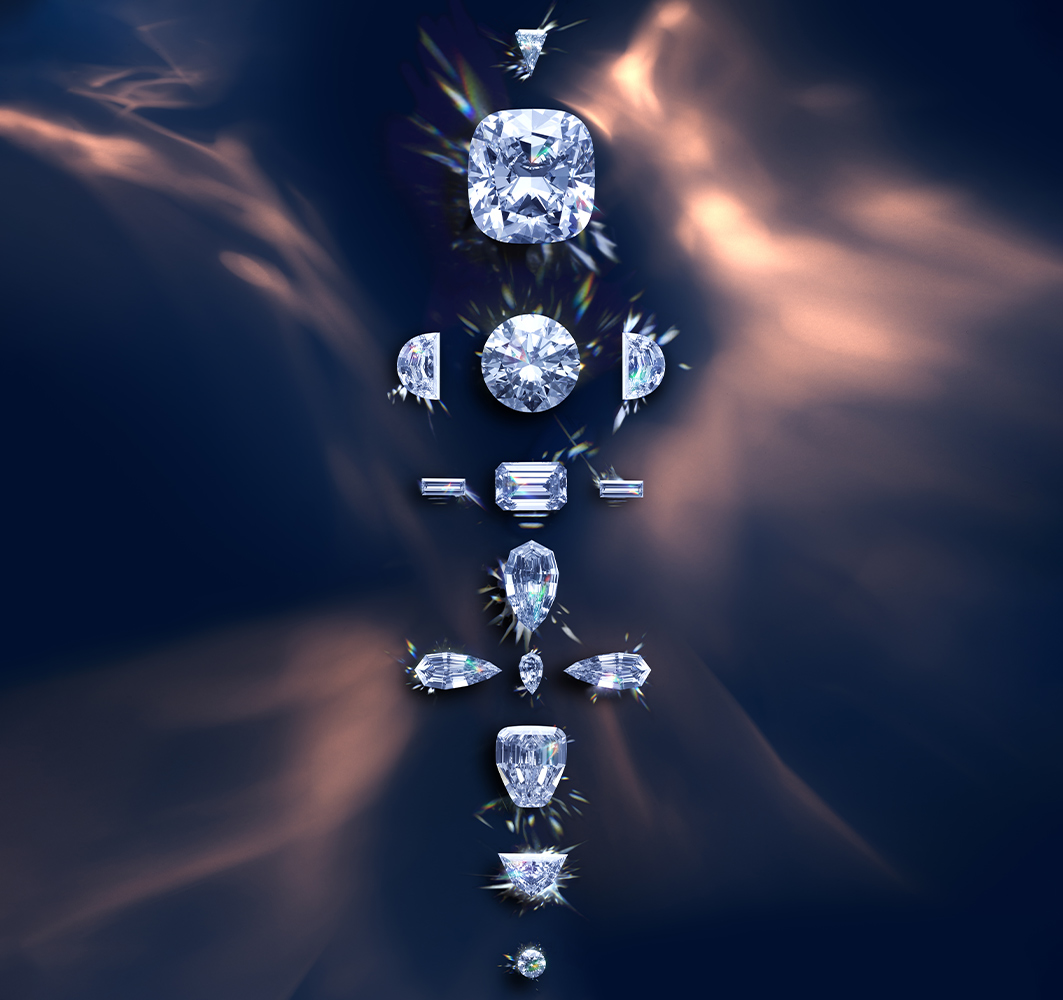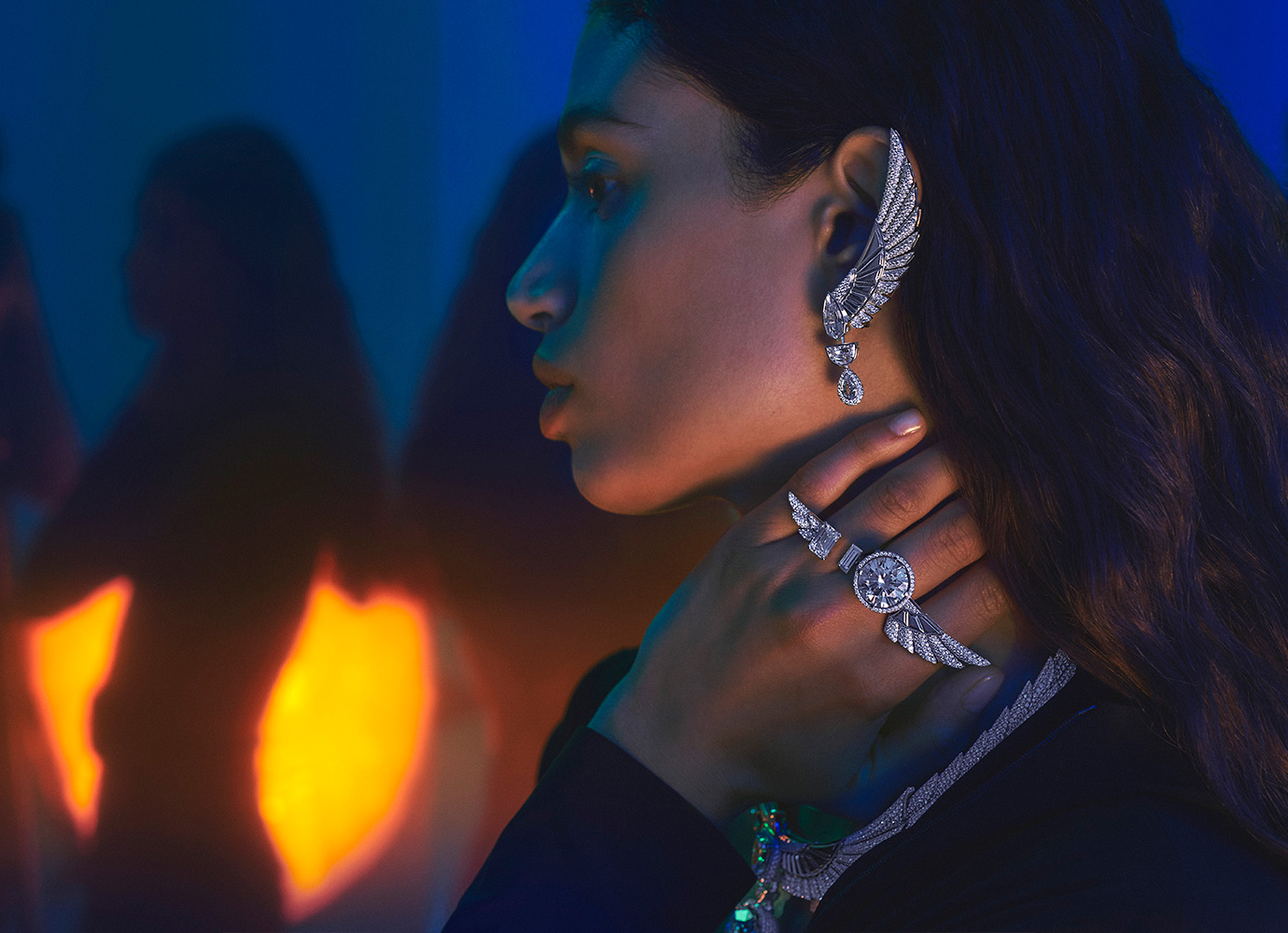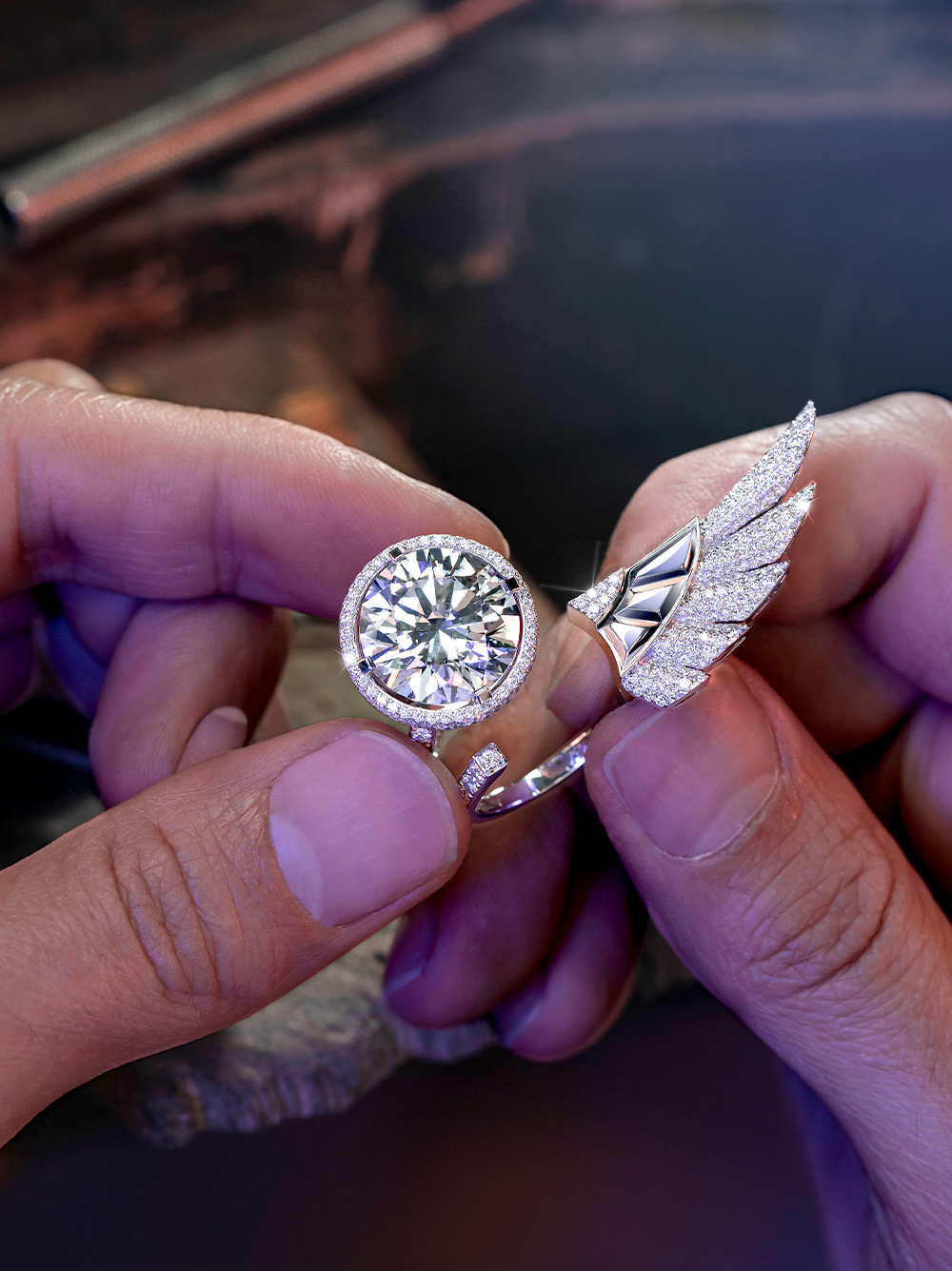 The odyssey of an exceptional diamond
The Maison of Messika is writing a new chapter in its history with a remarkable 33-carat diamond, an extraordinary stone that illuminates the centrepiece of the 2022 High Jewelry collection. Valérie Messika dares to take on an unexpected challenge by creating Akh-Ba-Ka, a set with a design inherently inspired by ancient Egypt mythology and style, conceived in diamonds and white gold. The hero diamonds featured within the set are 15 exceptional gems cut from the same rough diamond of 110 carats. In ancient Egyptian mythology, the KA symbolises vital energy and BA is representative of transformation, from flight to the afterlife. From the union of these forces springs AKH, the transfiguration of a person toward the light. Therefore Akh-Ba-Ka is transcendence, a fascinating epic of a rough diamond, as well as a story of transmission, family and unique know-how.
Explore the exceptional stones that are the essence of this creation by clicking here
The rebirth of an extraordinary rough stone
The 110-carat diamond is a daring adventure that began in the Lucara mine in Botswana. The mapping of the modular composition is then proceeded by the moment of metamorphosis of this raw 110 carat gem into 15 cut diamonds. A meticulous endeavor, the precision of the work is inspired by the very nature of the rough diamond, dictating which shapes are to be adopted. The devotion and expertise of the diamond dealer have joined forces with the audacious instinct of the designer to bring this 110-carat rough diamond back to life in an incredible and unique High Jewelry set that makes a milestone in the history of the Messika Maison.
A unique mastery for an exceptional necklace
A true masterpiece within the set, the necklace boasts 2,550 diamonds, totalling 71,49 carats. Its contemporary yet progressive design reinterprets the mythical Egyptian winged scarab thanks to an ingenious combination of diamonds and faceted white gold. In the center of this extraordinary necklace, the 33-carat diamond is inserted by a subtle play of pendants. The strength of this gem comes from its extraordinary properties: classified D for its colour and FI for its clarity. Therefore, this special stone is one of very rare purity. Its incomparable radiance makes it almost incandescent. To bring the best out of a 33-carat diamond, both vision and technical know-how based on exceptional craftsmanship are needed. The creation of Akh-Ba-Ka required more than 1,000 hours of labor, four to five full-time jewellers across 6 months with 800 paving diamonds for the setting of the 33-carat diamond. For this adventure in design, the Maison has multiplied the challenges by designing a transformable piece. The structure that cradles the 33-carat stone can be disbanded from the necklace to become a brooch. Yet another challenge brilliantly taken up by the master jewellers.
Golden Shield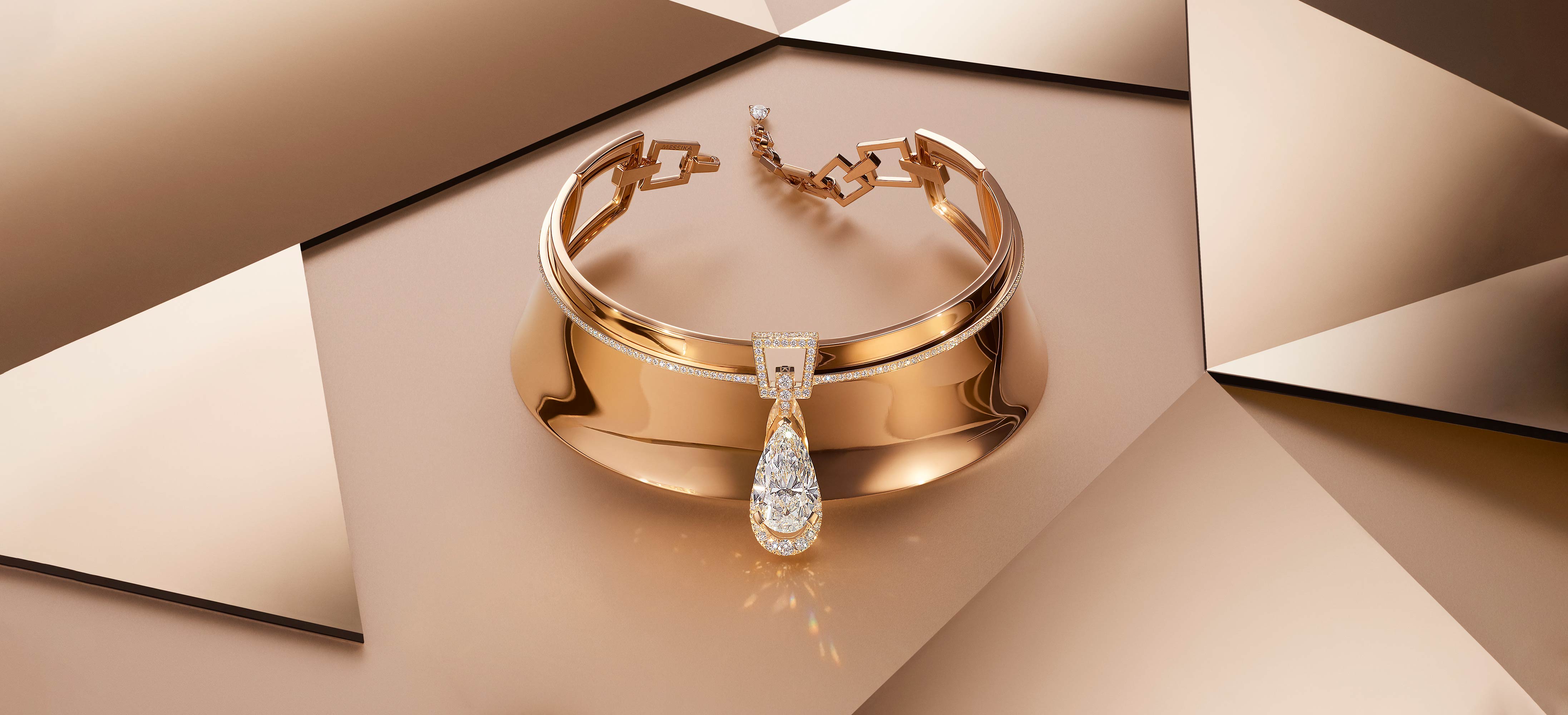 Golden Shield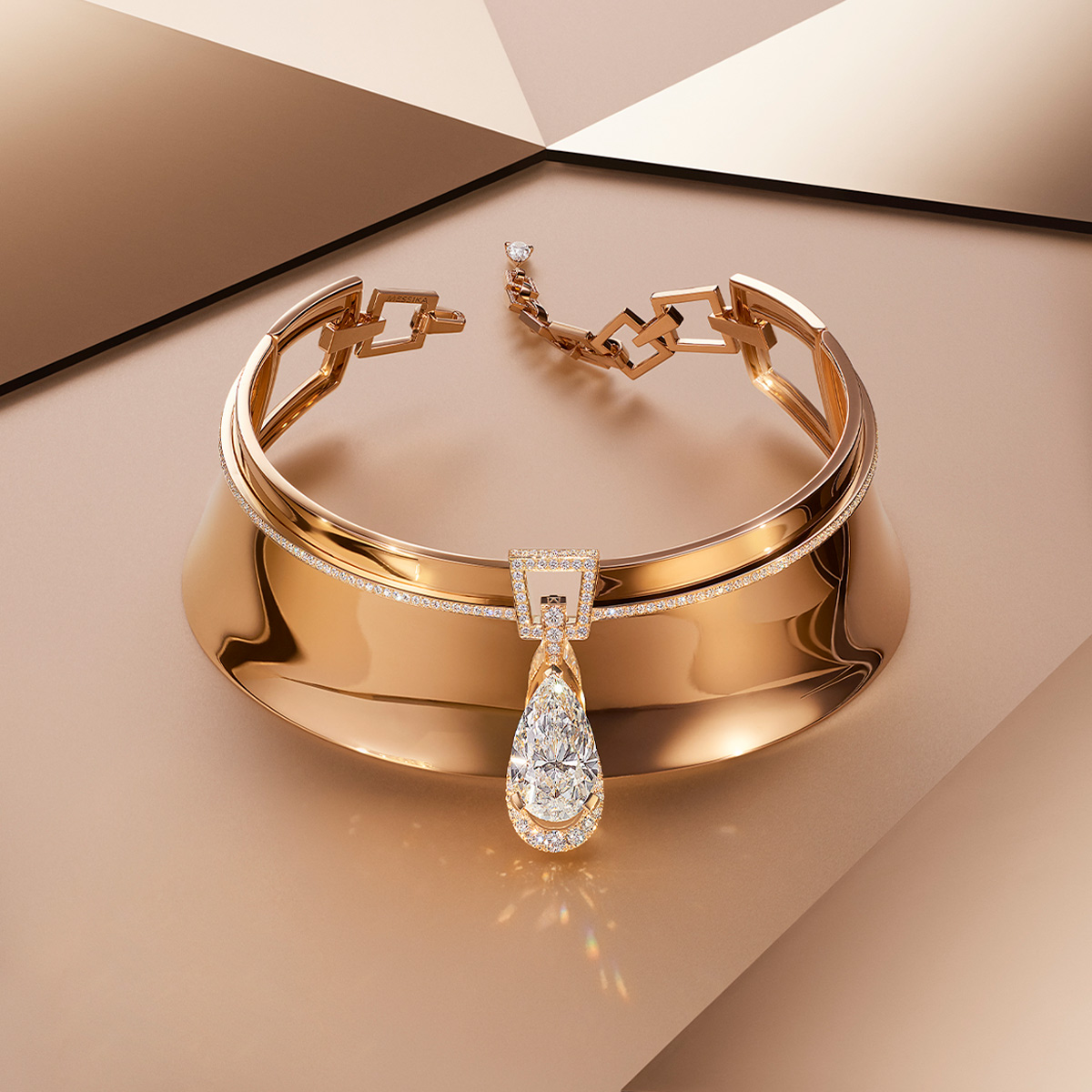 Golden Shield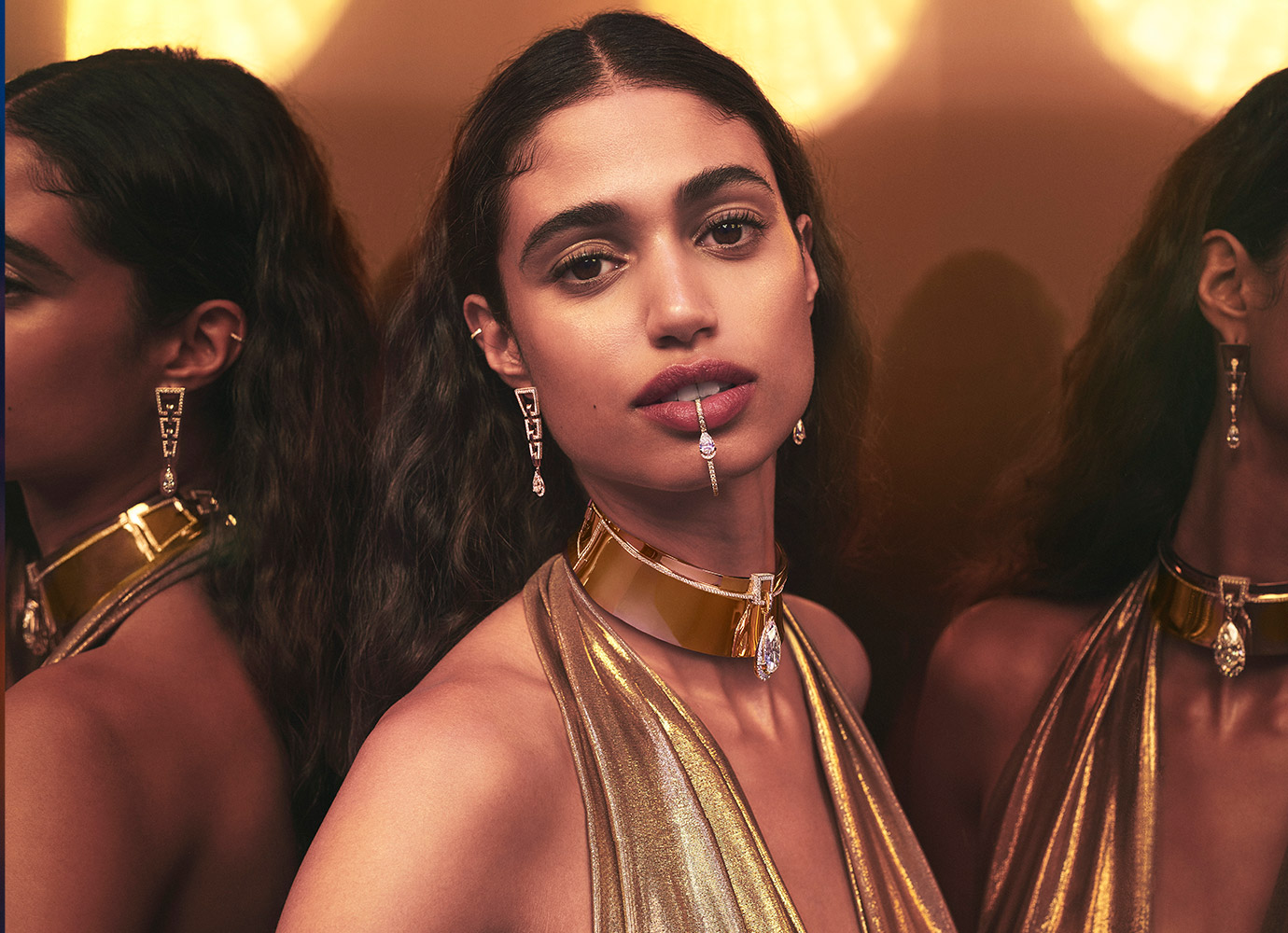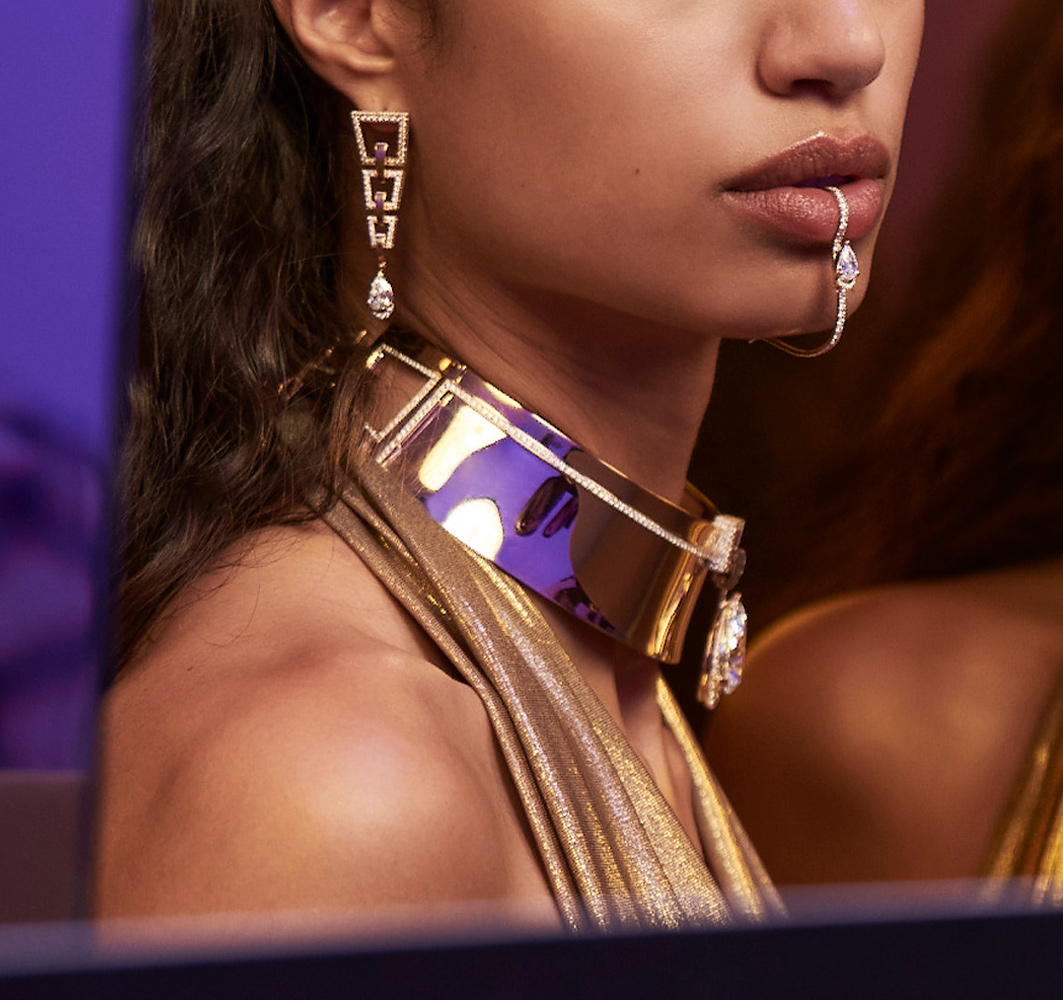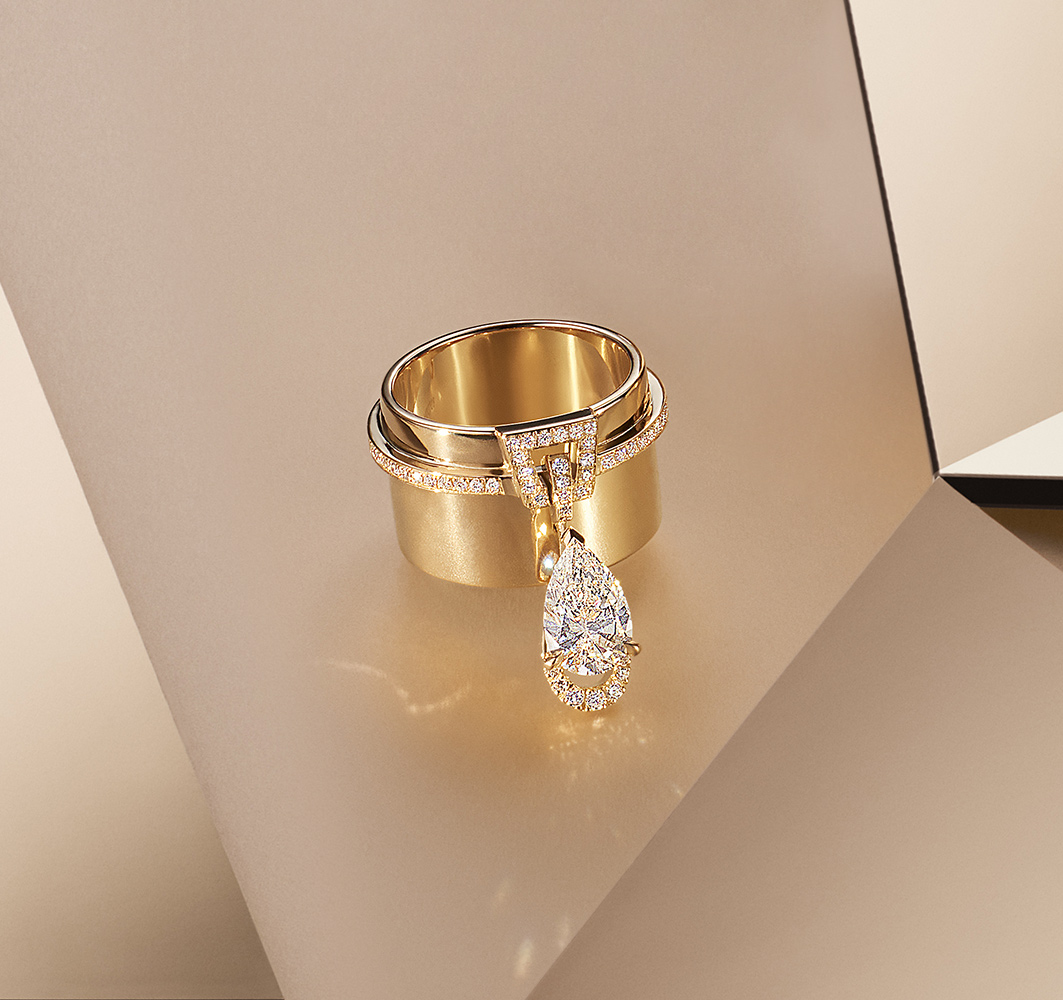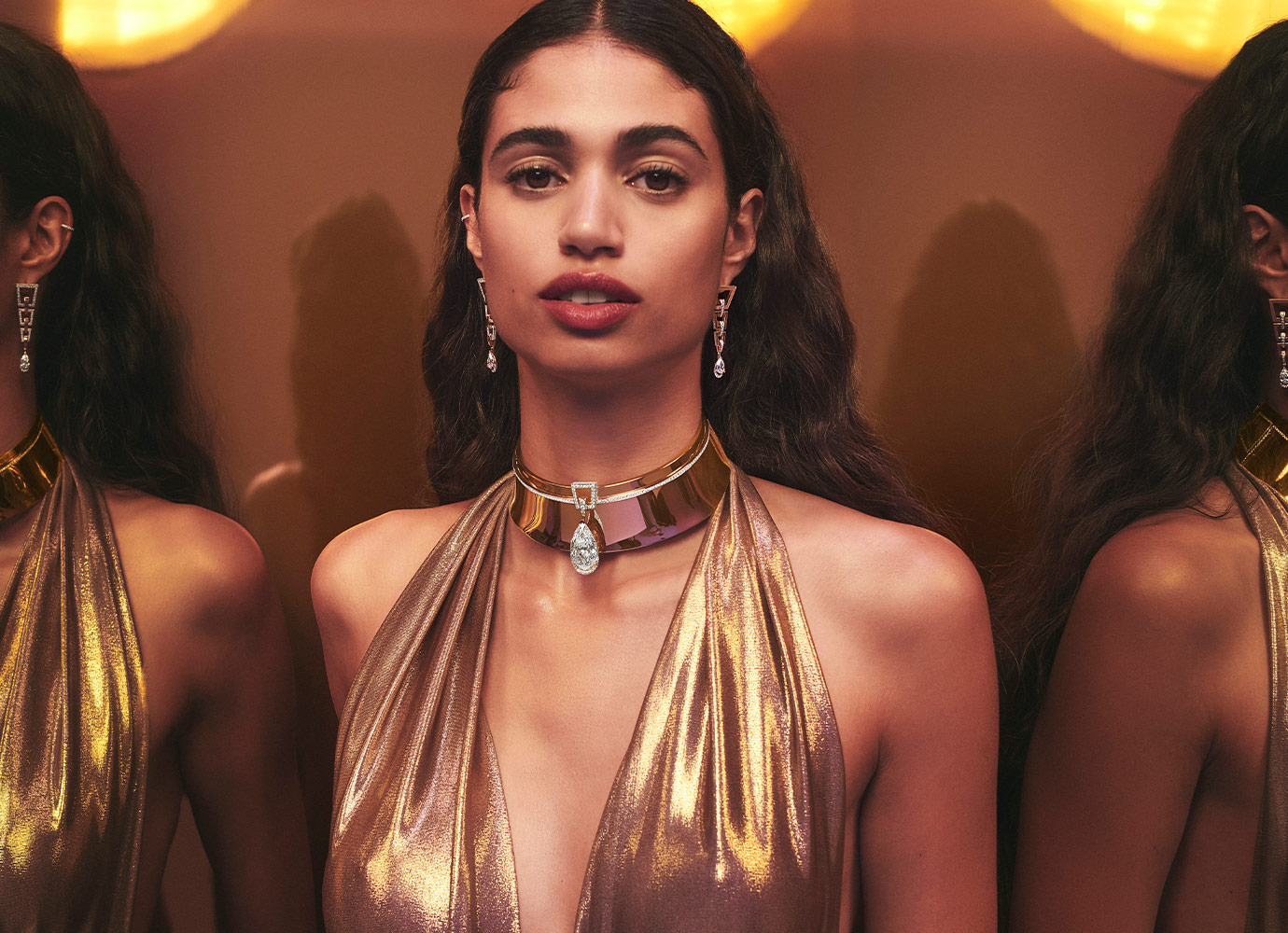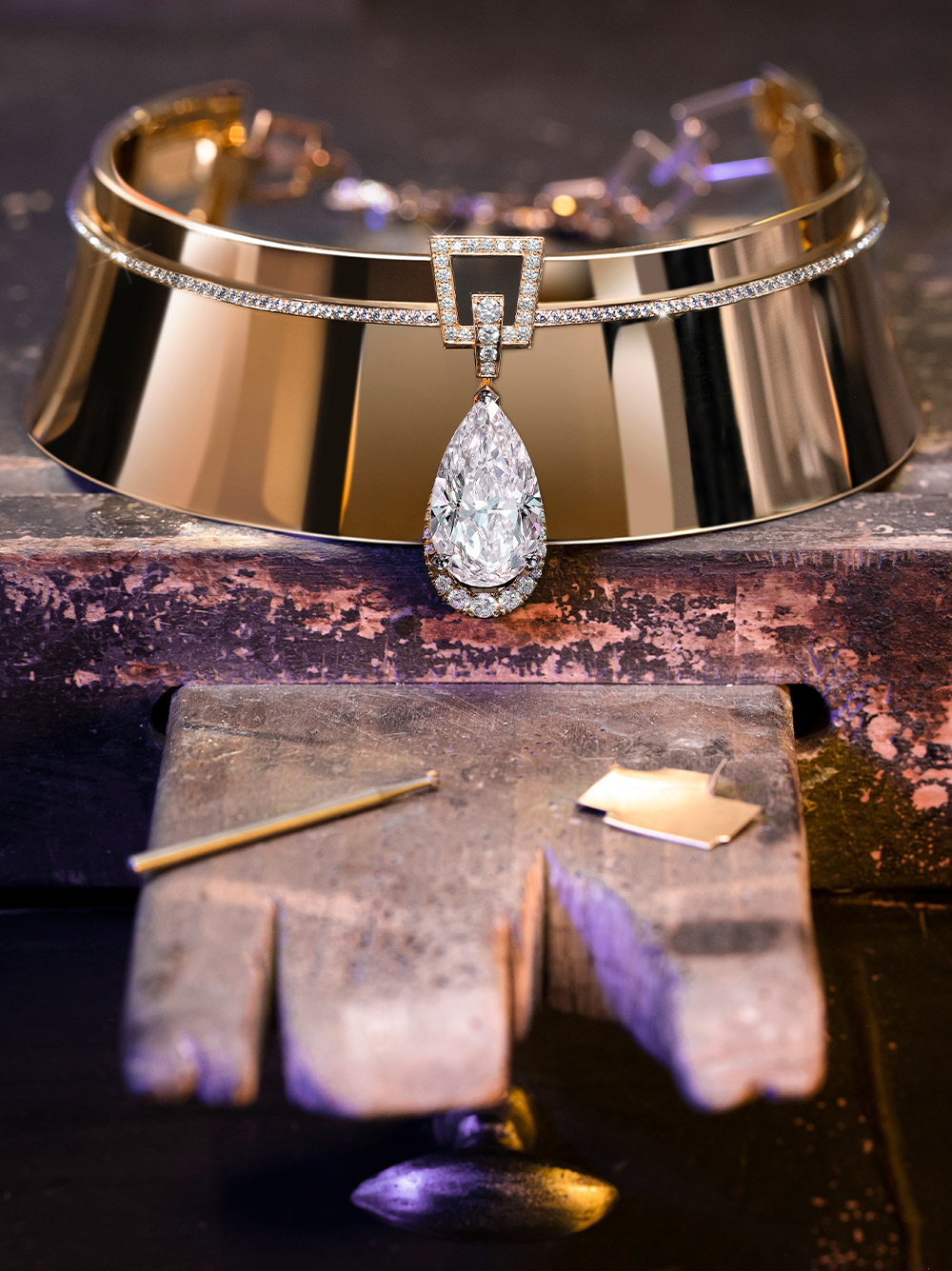 A set with solar radiance
Golden Shield is a journey towards the light - a solar and divine light - that radiates with grace from the power of gold. Composed of a contemporary choker, earrings with graphic geometric lines and lip jewelry, this daring set marks a return to yellow gold that is modern and inspired. The impressive necklace evoking the pharaonic finery was hand-made from a yellow gold plate. Maison Messika has created an offbeat design for this set by playing on the planes and colour contrasts. The gold reveals all of its brilliance in a play of facets created by a mirror-polished effect that engages perfectly with the diamonds.
Divine Enigma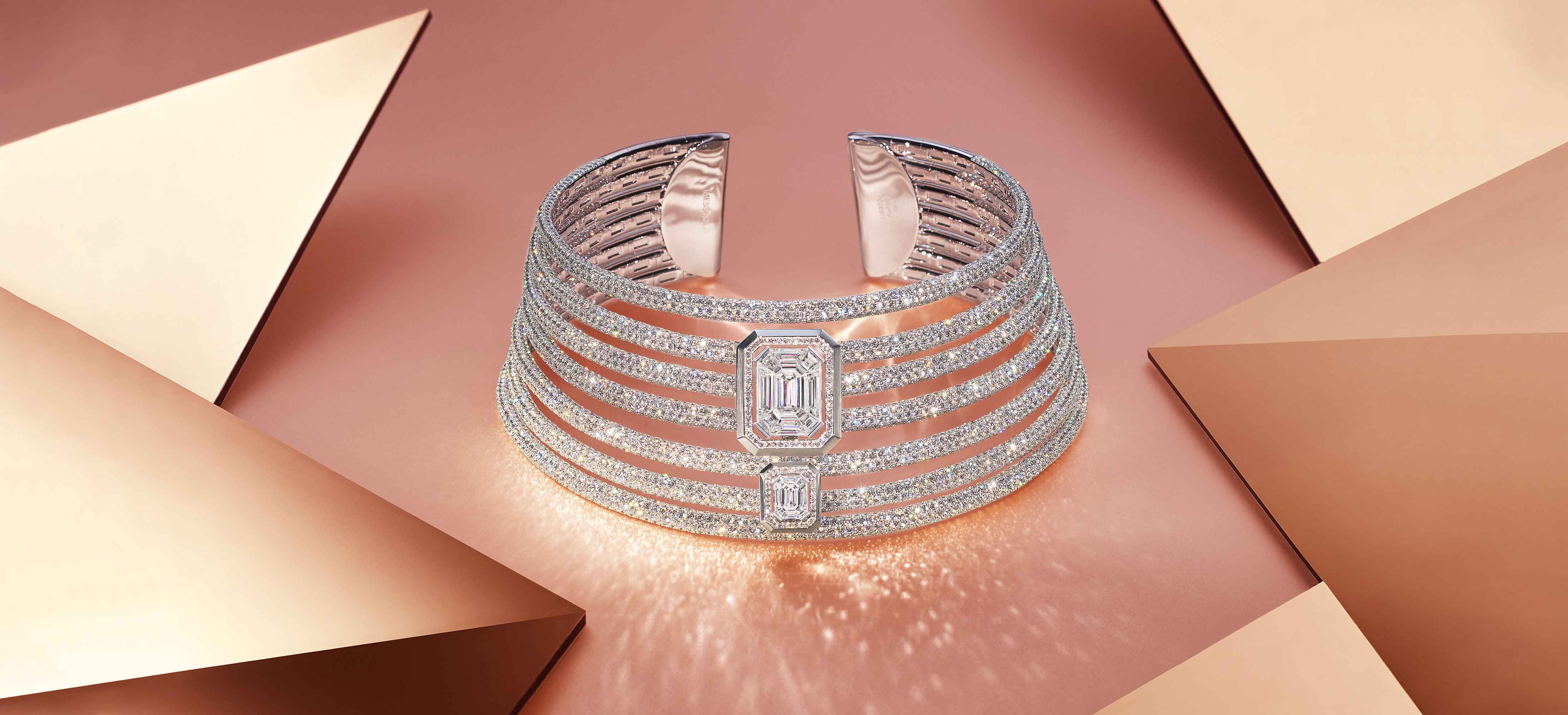 Divine Enigma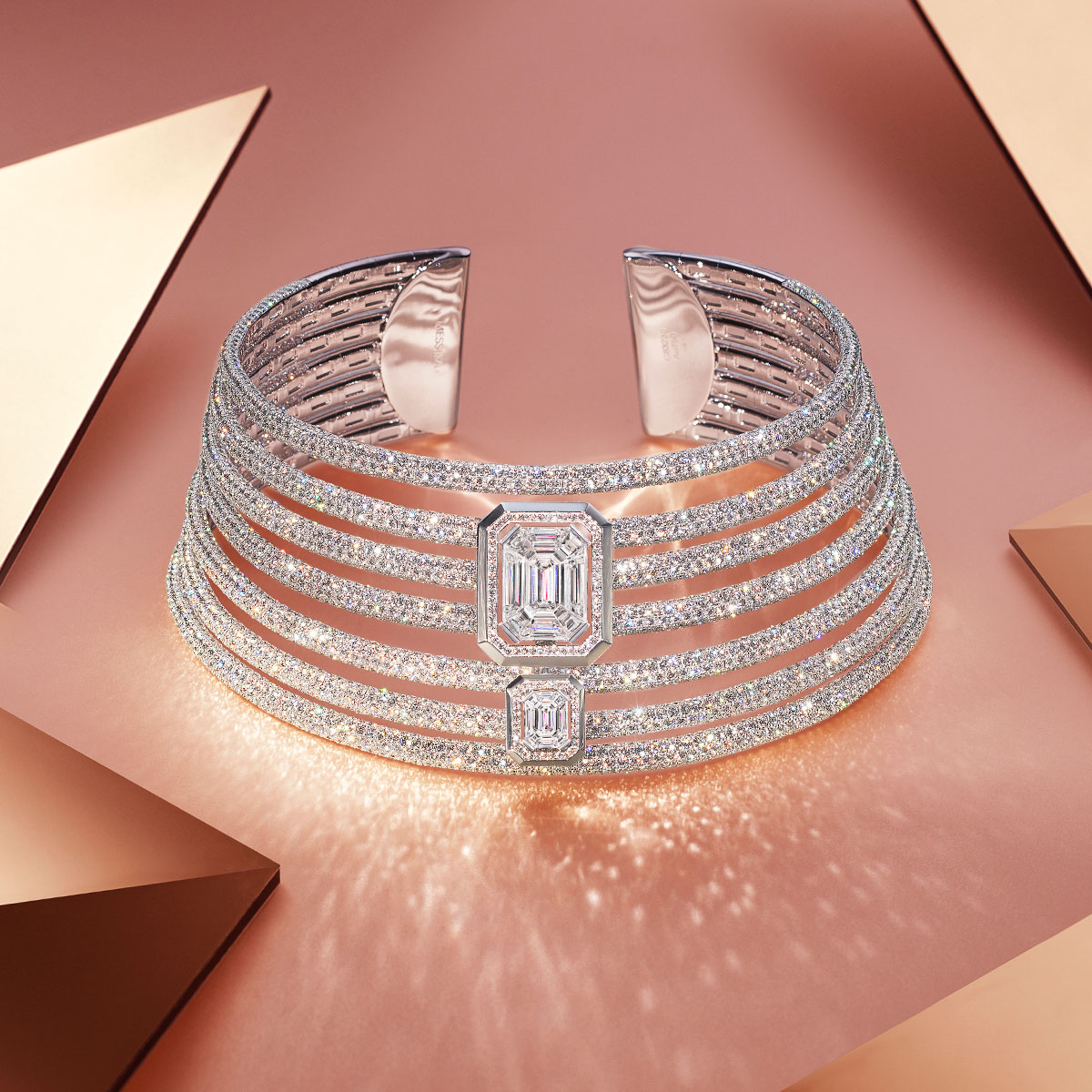 Divine Enigma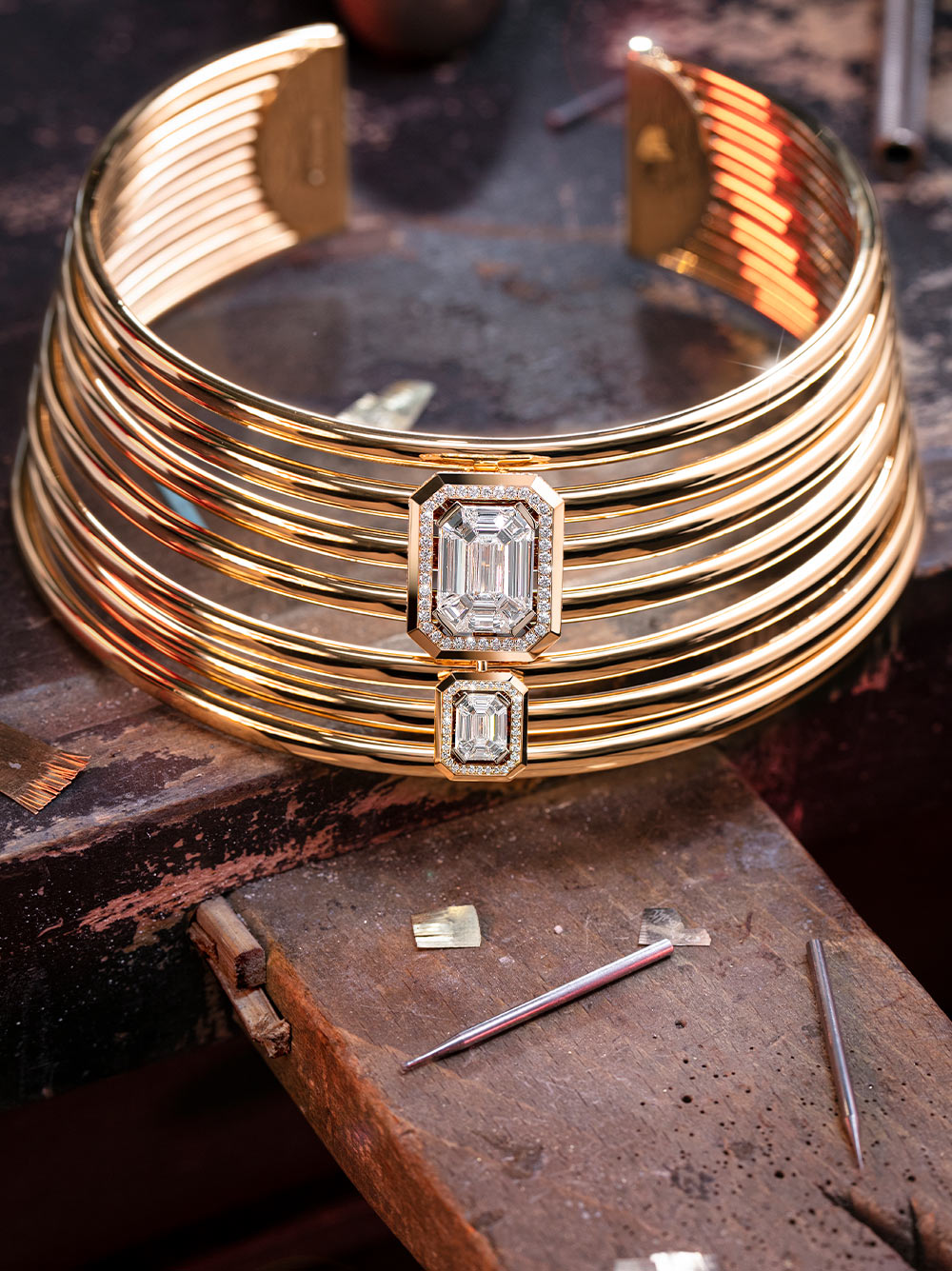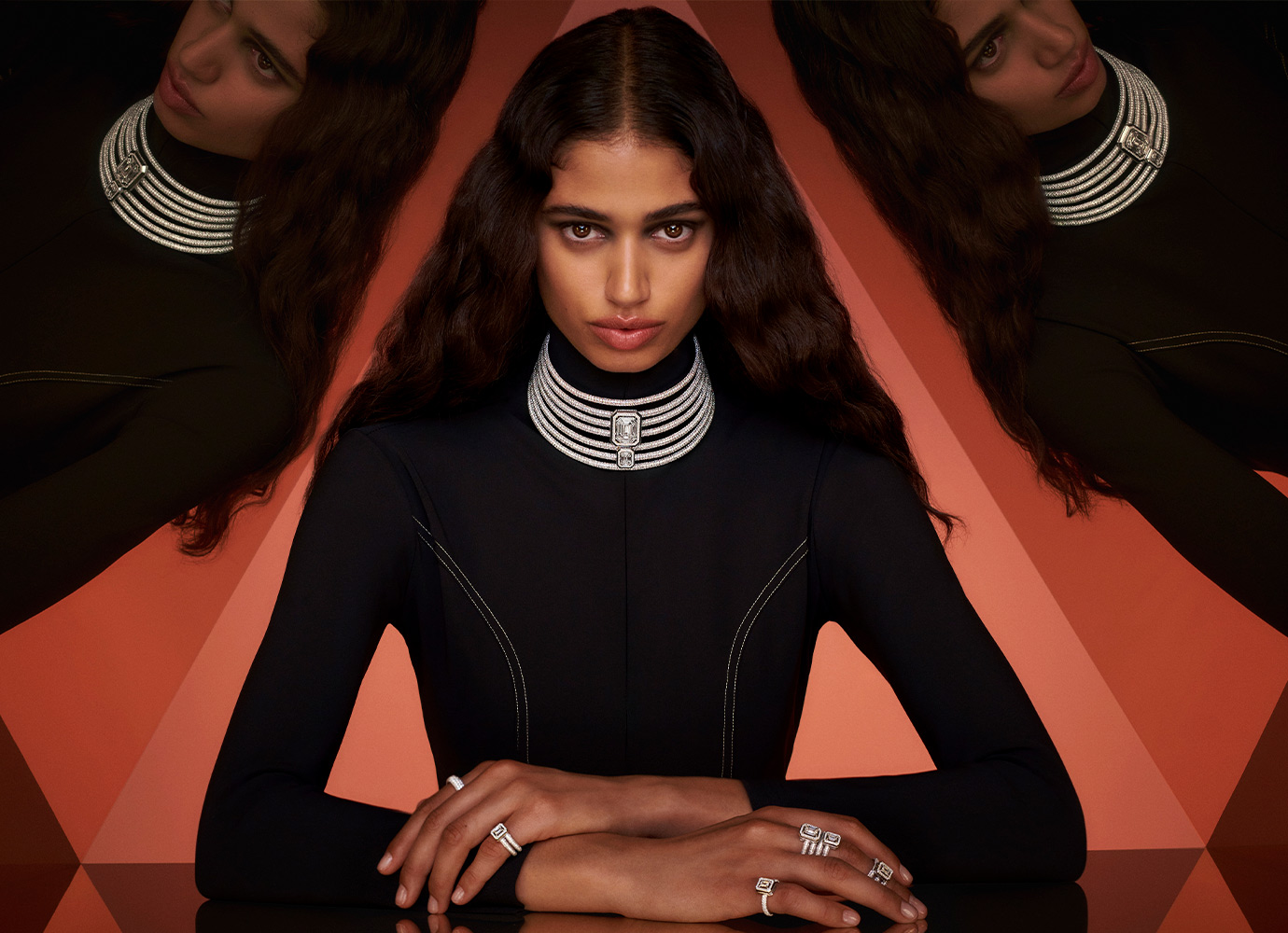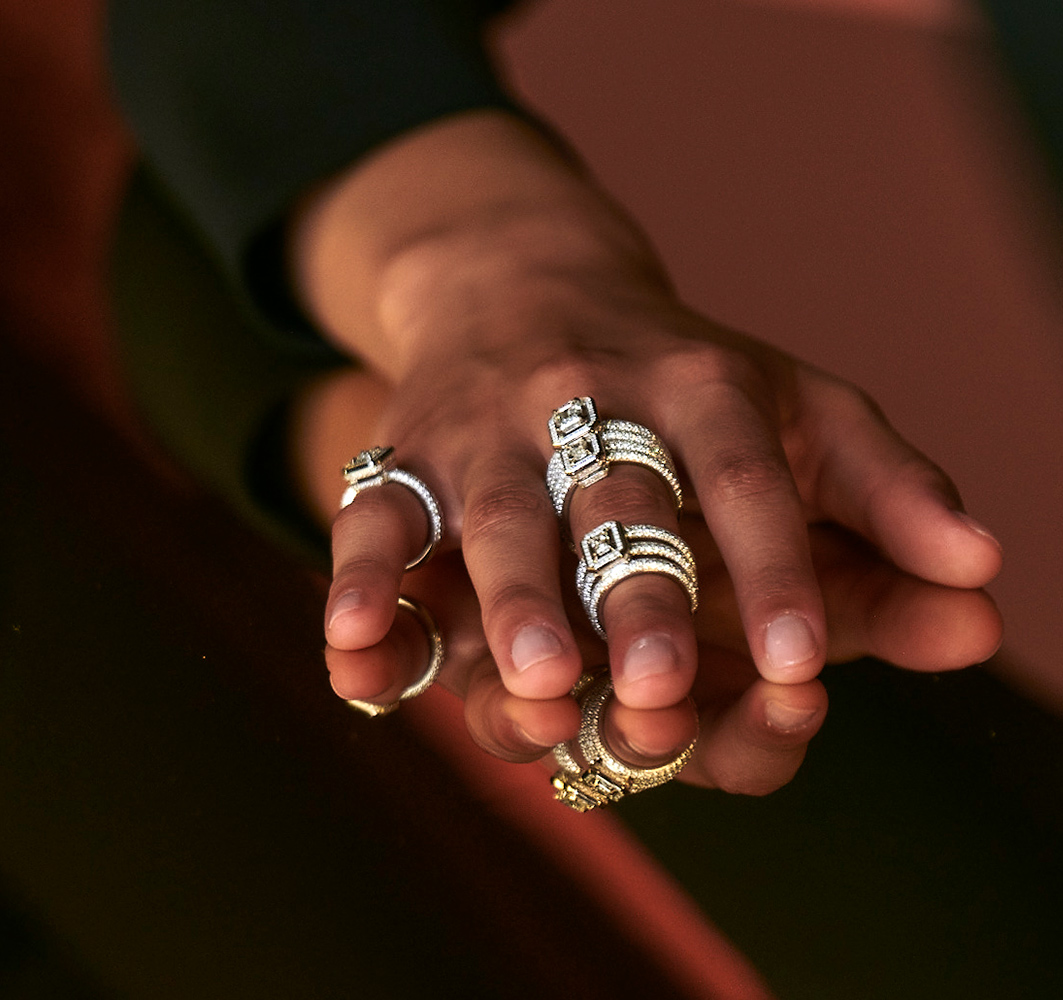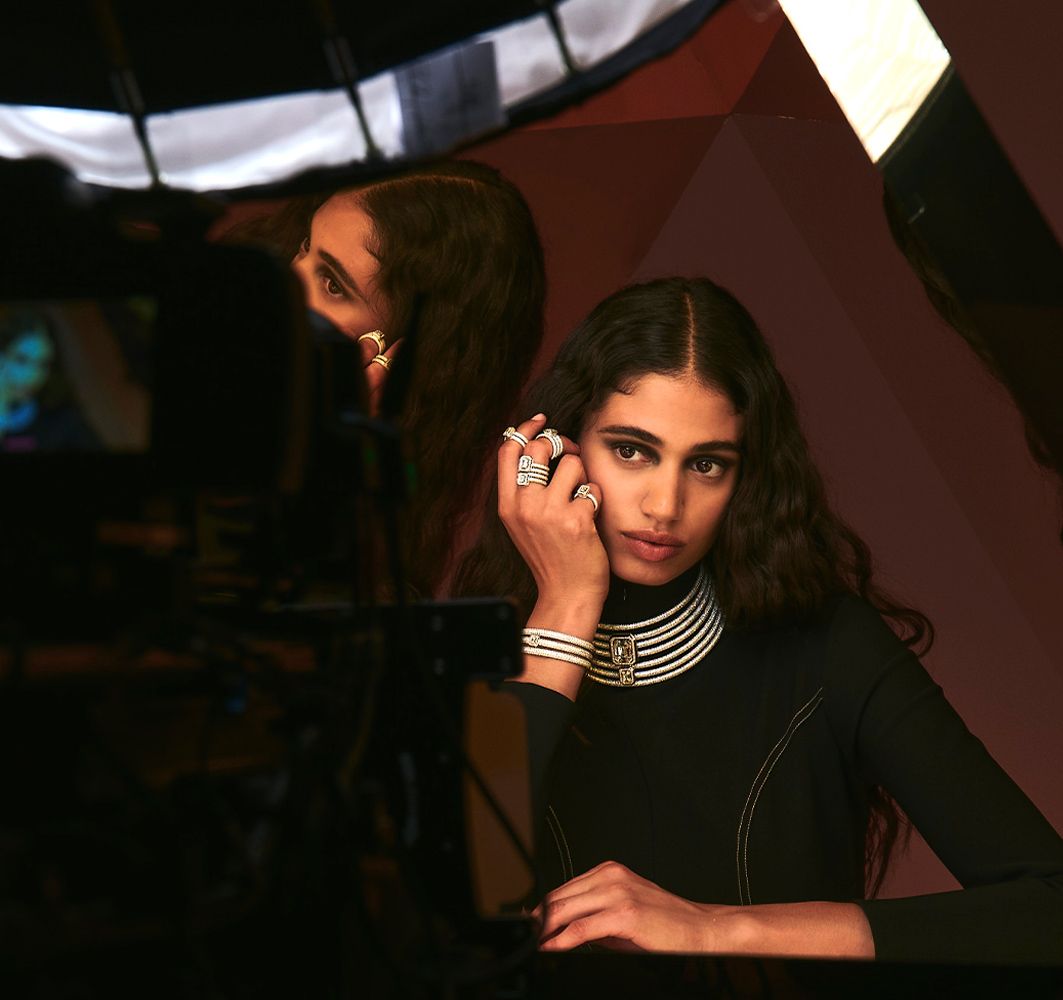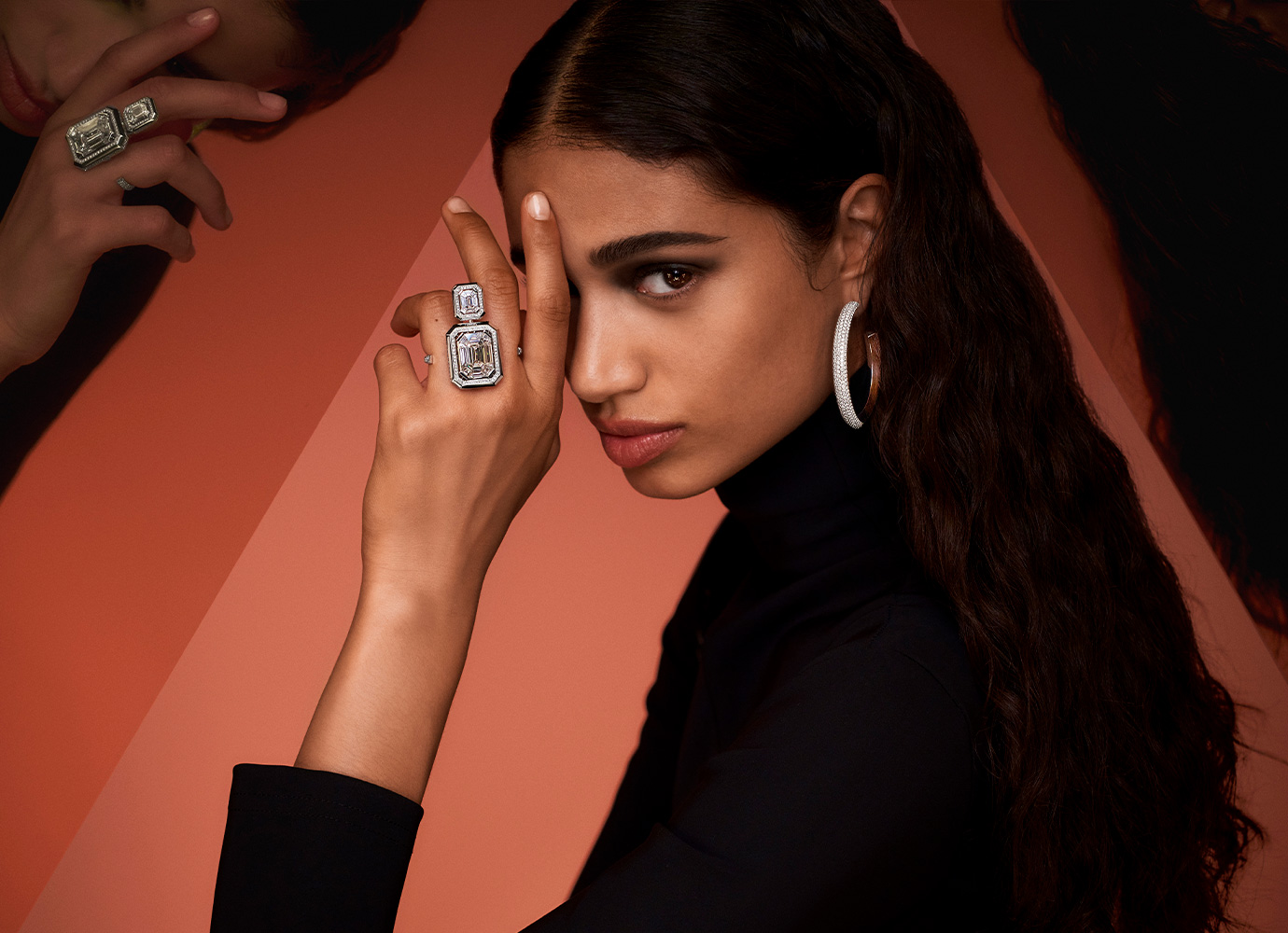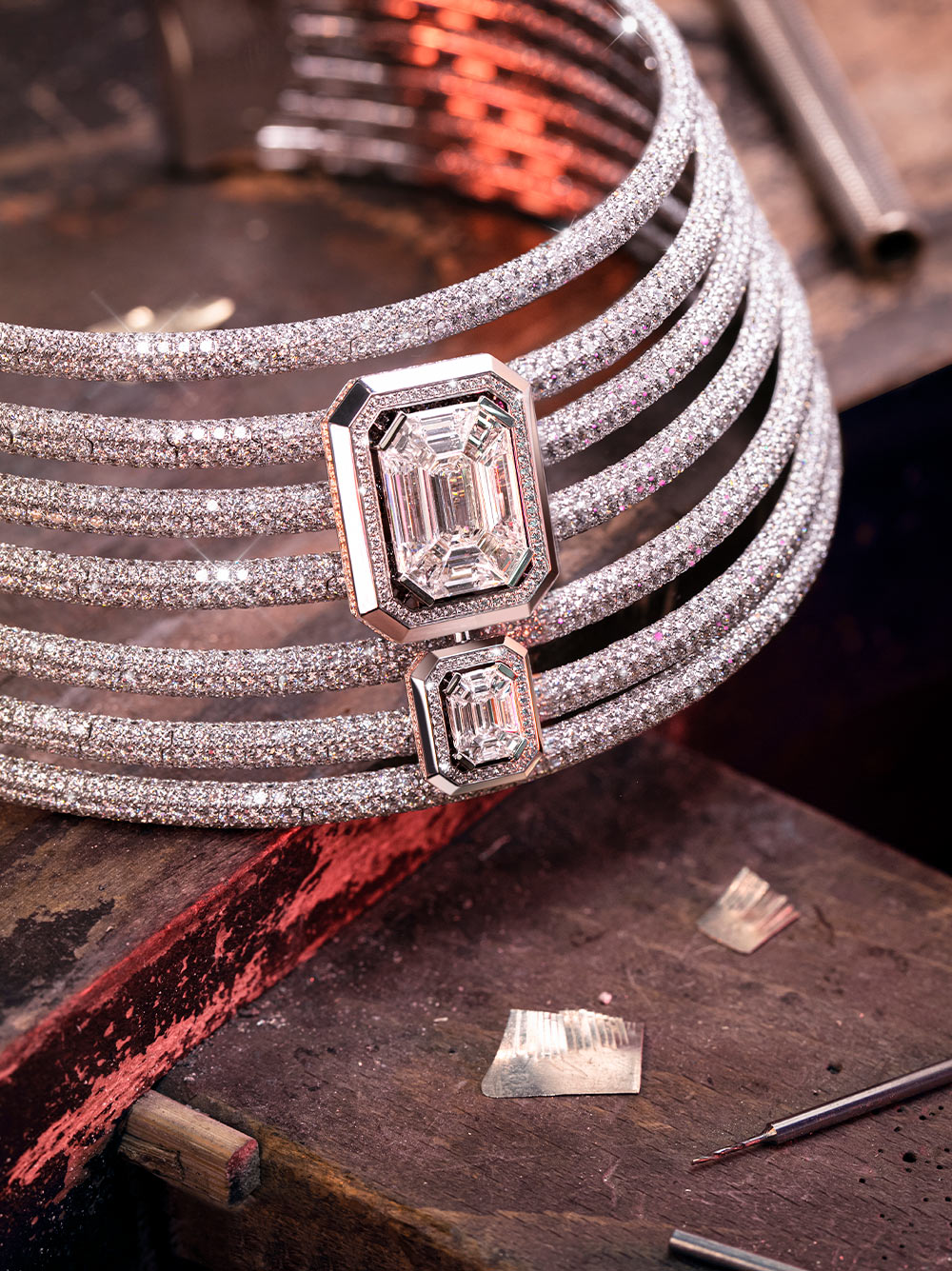 Mysterious Egypt
Divine Enigma is a hypnotic and mysterious set that plays on appearances. The set is available in two shades: the incandescence of yellow gold for a flamboyant look and the extreme brilliance of diamonds for a captivating wear in white gold. Valérie Messika's creations are highly structured pieces where the apparent rigidity of the lines gives way to the flexibility of movement for a supple wear. These transformable jewels play a score in three acts: a necklace with or without a stone for an assertive or more relaxed look, and a supernatural double ring for an added touch of sparkle.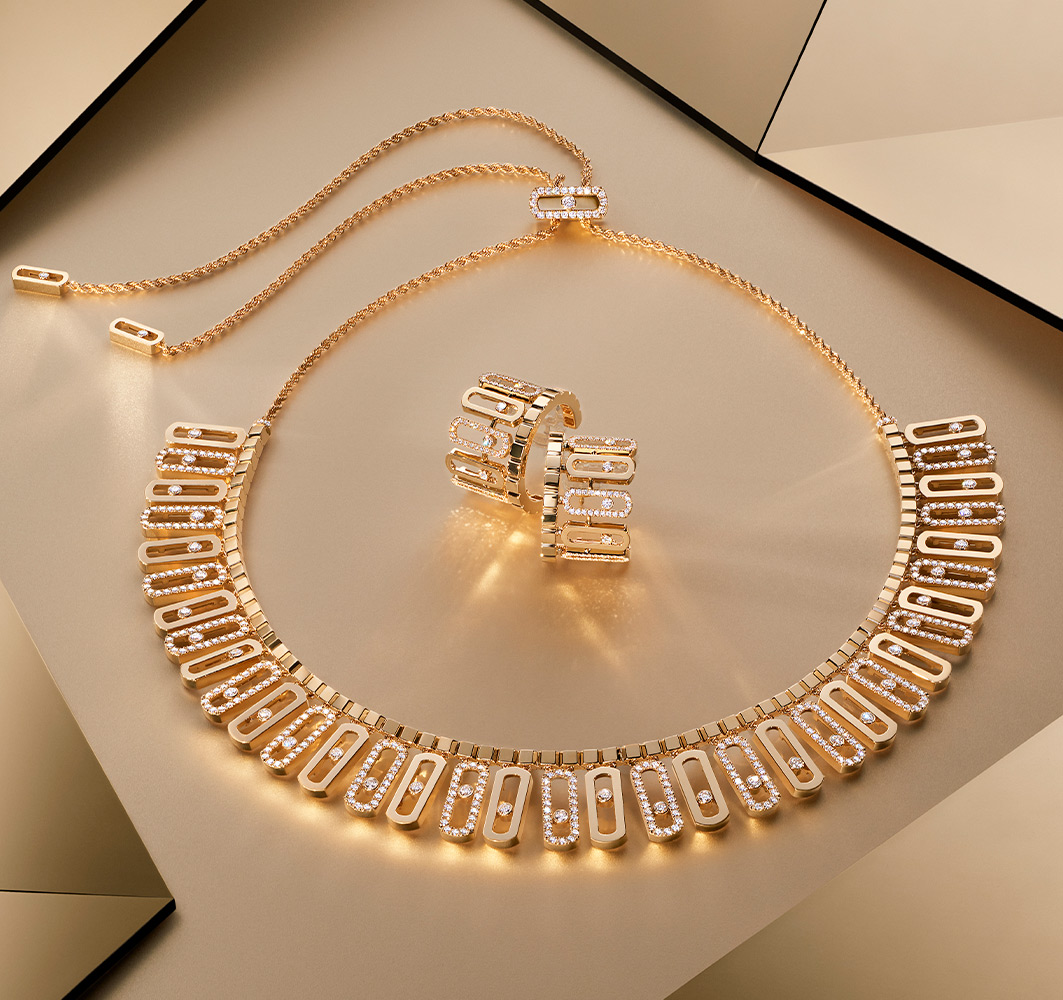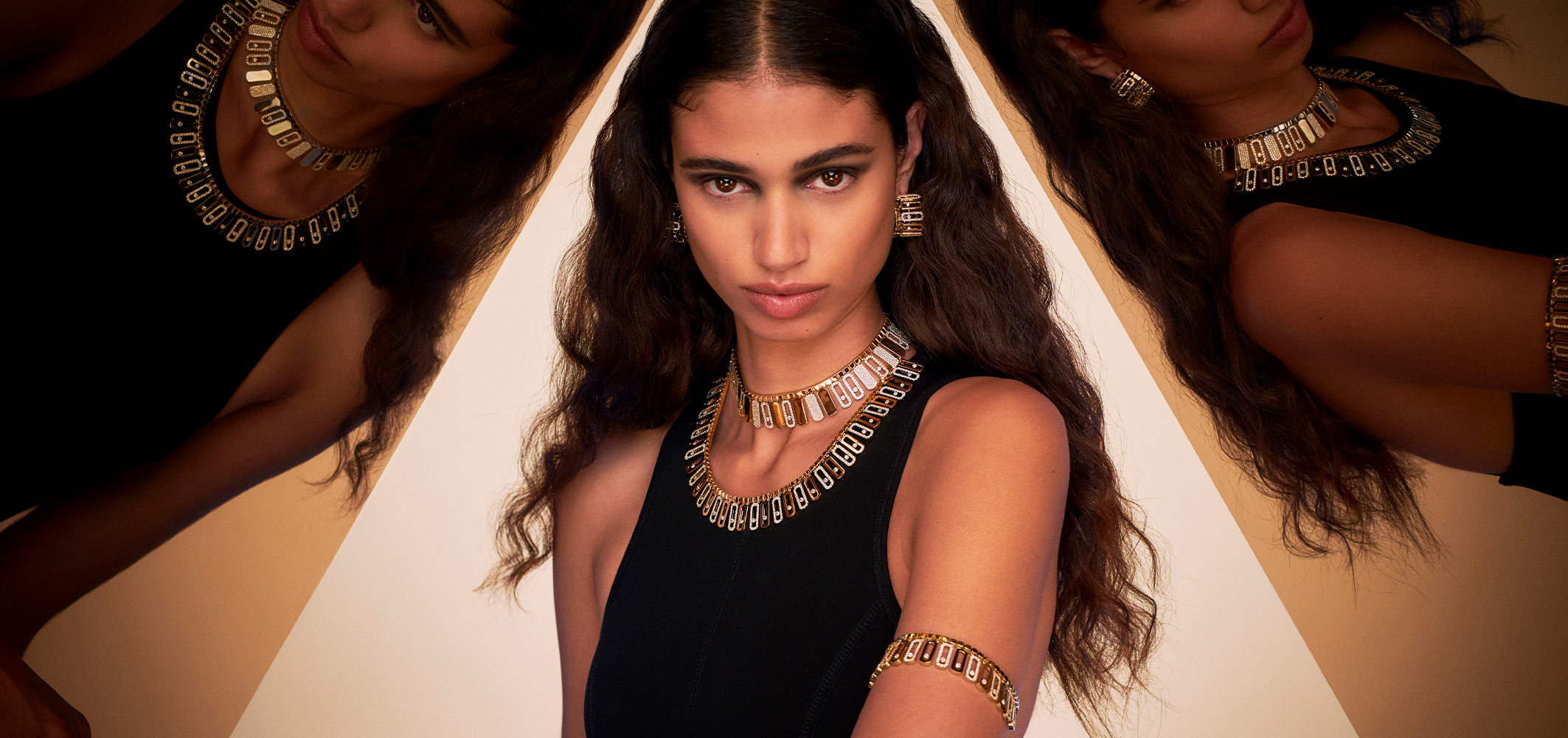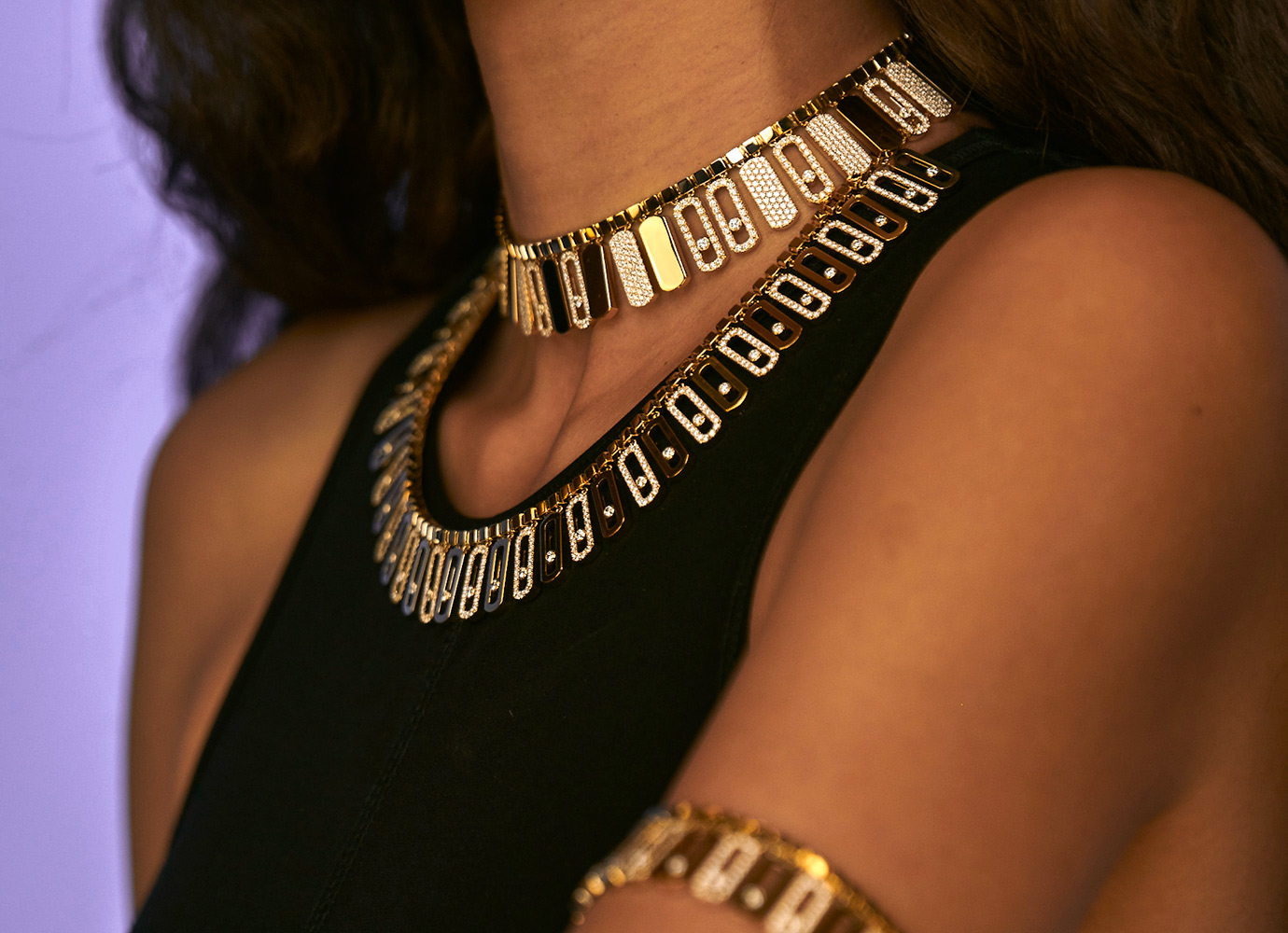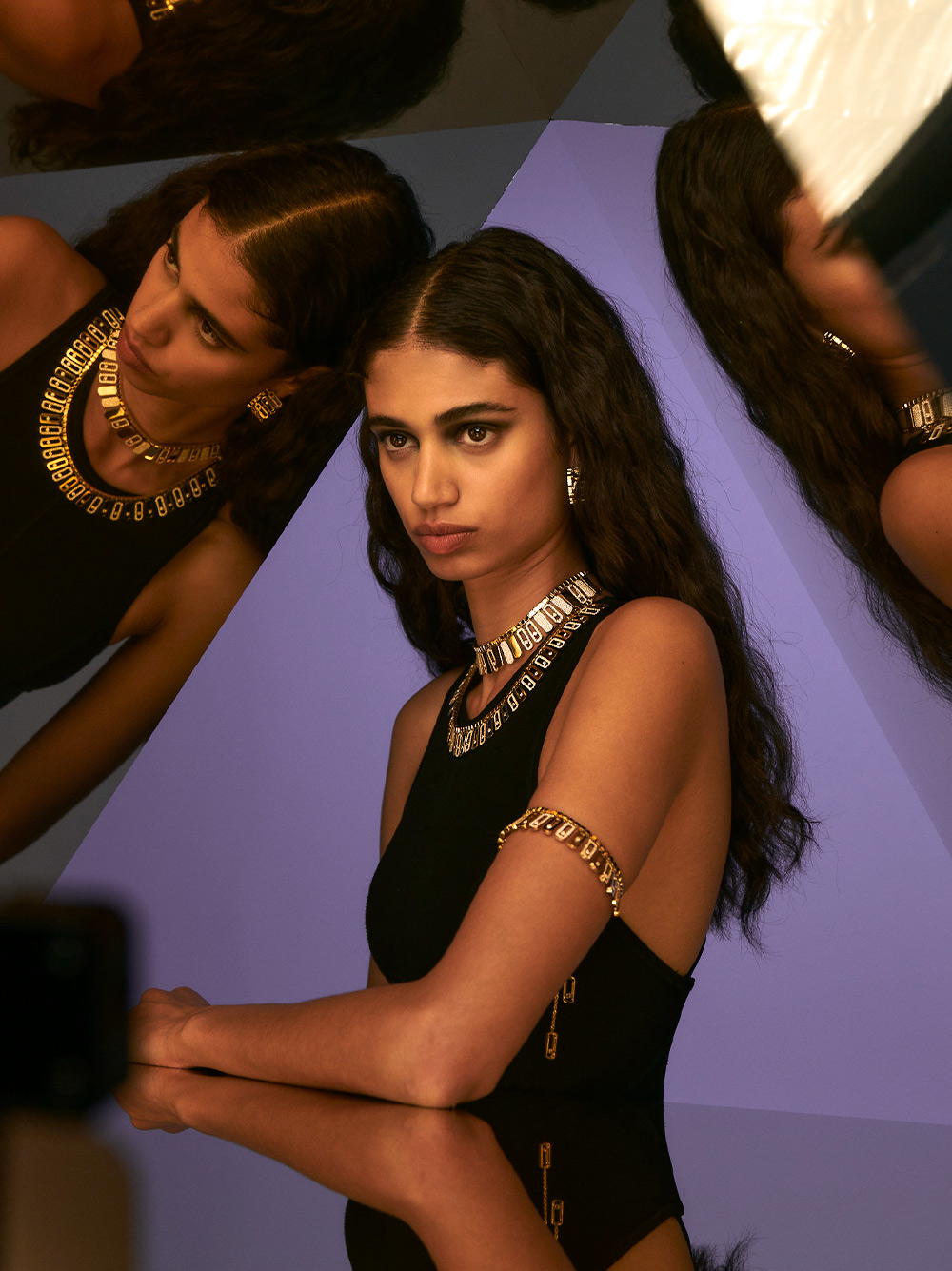 Jewelry as an expression
Breaking free from the codes of jewelry design and breaking genres, Move Iconica is a set of strength for mixed and liberated wear. Like a natural echo of the famous Egyptian cartouches, the Move Uno pattern is endlessly available in a subtle combination of shapes. Valérie Messika twists her iconic pattern once again and imagines ever more innovative ways of wearing it. The opulent jewels of the set are designed like a supple and vibrant fabric in effect from high-flying link work. The pieces become a second skin to perfectly fit in motion across every movement.